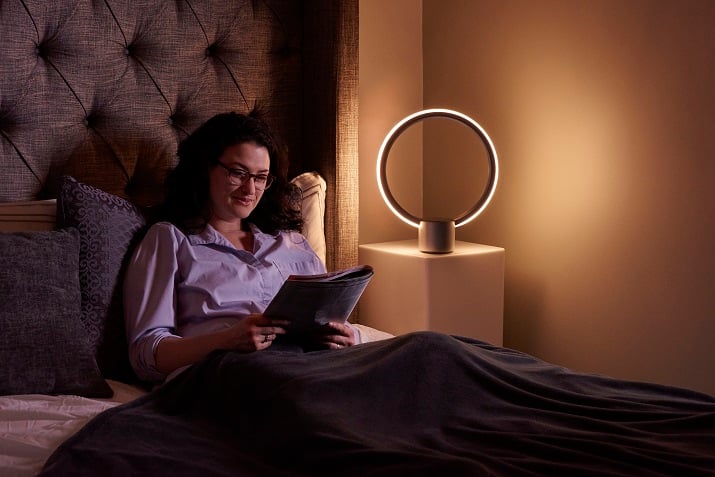 The C by GE Sol lamp allows for voice commands for lighting as well as other functions found in Amazon Alexa. Source: GE Get ready to begin talking to your furniture as General Electric has introduced what it claims is the first smart lighting product that integrates Amazon Alexa allowing for voice commanded lighting.
GE's C by GE Sol lamps are equipped with Amazon Alexa inside in order to offer an easier way to adjust lighting than connecting to a smart hub. With C by GE Sol, priced at $199.99, homeowners can now place orders to restaurants, listen to news, play music and other voice commands all through a standalone lamp. Users can also add a clock feature that uses lighting to replace the hands of a traditional clock.
The light emitting diode (LED) lamp features a sleep-enabled light function to help people get better rest at night. The lamp helps reinforce the human body's natural rhythm and melatonin production to prepare to sleep and awaken more efficiently, GE says. A warm light is used to increase melatonin before bed, while cool vibrant light appears in the morning for waking.
The lamp also features a 60 watt equivalent light to daylight or soft white color temperatures which can all be commanded via voice or through the C by GE app. The white light is used to set a mood in each room or a relaxing light when in a family room watching a movie or television.
Meanwhile, GE's C by GE Bulbs are getting the boost with voice compatibility. The connected bulbs are compatible with Amazon Alexa and Apple Homekit and will be available this summer. The LED bulbs will allow for homeowners to control the bulbs light, dim them or group them by rooms by voice command. GE is also offering bulbs that respond to voice for recessed lighting, which are compatible with the company's C-Reach portfolio.