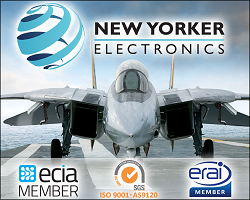 Source: New Yorker Electronics
New Yorker Electronics (Northvale, N.J.) has attained the new AS9120B certification well ahead of the mandated September 2018 deadline. AS9120B is the quality management standard for aviation, space and defense organizations and the new AS9120:2016 (Revision B) replaces AS9120:2009 (Revision A).
"In our ongoing effort to provide our customers around the world with the highest level of reliable, credible service, we have made it a mission of ours to be in full compliance with all the new standards as soon as they became available," said New Yorker Electronics CEO Sandy Slivka. "This lets our customers know we are implementing the very latest industry standards in every transaction, every day."
The updated AS9120B version includes additional requirements covering configuration management, product and service conformity and on-time delivery measurements, counterfeit parts, work transfers and human factor consideration.
New Yorker Electronics is also a member of ECIA and of ERAI, and functions in strict accordance with AS5553 and AS6496 principles. While it serves all industries, it operates exclusively at heightened military and aerospace performance levels.