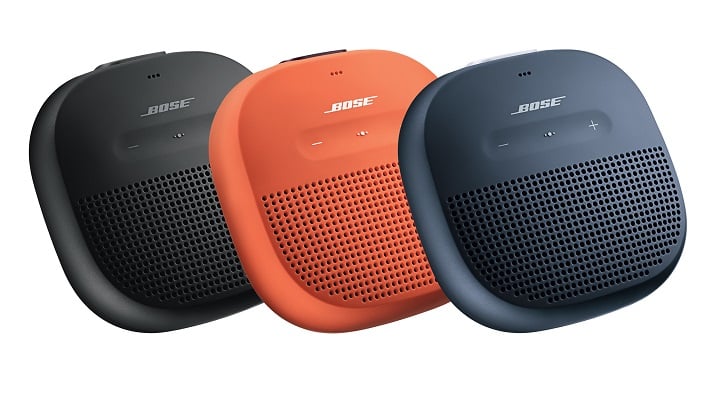 The Micro from Bose. Source: PRNewswire/Bose CorporationBose calls it "The Micro," and for good reason: It's the audio corporation's smallest-ever portable speaker.
The SoundLink Micro Bluetooth speaker measures just 3.87 inches square by 1.37 inches deep, weighs approximately 10 ounces and fits in the palm of one's hand. According to Bose, it is nevertheless rugged, and tested beyond its IPX7 waterproof rating. The device was made to withstand rain and snow as well as soapy water, chlorinated water and salt water. A soft silicone exterior protects it from scratches, dents and contaminants like dust and sand, and its back-side durable strap can attach the device to backpacks, bikes and other gear.
Engineered with a new custom transducer, miniature dual-passive silicone radiators and rechargeable lithium-ion battery, Bose says that the Micro will reproduce loud, clear sound better than any speaker of its size. It can deliver up to six hours of mobile audio; with a wireless range of up to 30 feet, it can pair to a smartphone via Bluetooth for calls and access to Siri or Google Assistant. The Bose Connect app allows it to sync with other SoundLink speakers, as well.
Availability begins Sept. 21, 2017, and pre-orders are now being accepted. Color selections are black, midnight blue and bright orange. Bose's price is $109.95.