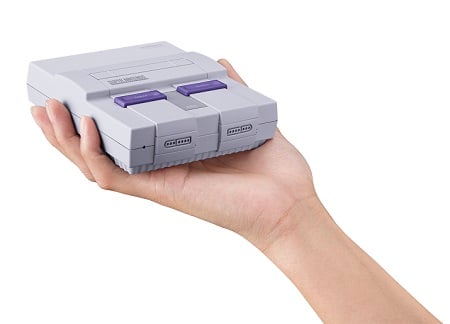 The Super NES Classic Edition is just like the original console, except it fits in the palm of your hand. Source: Toys"R"Us
It's never too early to start thinking about the holidays, right?
Toys"R"Us has just released its annual "Holiday Hot Toy List," and there's some pretty cool electronic gear on there for those budding techno-geeks at home who'll be making their own lists soon. Nintendo is well-represented, with offerings that include the Nintendo Switch. This compact device can connect to a TV, and instantly transform into an on-the-go handheld using its 6.2-inch high-definition screen. It comes with two joystick/controllers (Joy-Con) that can act as standalone controllers with built-in motion-sensing technology and a haptic feedback system (HD Rumble). The Joy-Con comes in two styles: gray, or contrasting neon blue and red. The Toys"R"Us price on either version is $299.99.
If that all sounds like a lot to handle, and you prefer to stick with the classic feel of video games from yesteryear, not to worry. There's also a Super Nintendo Entertainment System Classic Edition that is billed as "pure 16-bit retro gaming perfection." Basically, it's a miniaturized version of the original 1990s-era home game console, preloaded with classic games like Super Mario Kart, Donkey Kong Country and more. It's even compatible with Classic Controller accessories. The Toys"R"Us price is $79.99. And don't worry: We won't tell if you put it on your list instead of the one for the kids.
To see the full line of "hot toys," click here.