Scientists have used specialized nanogenerators that gather energy from mechanical vibrations to level up conventional children's toys into smart toys. The new development could lead to battery-free self-powered toys, medical sensors and more.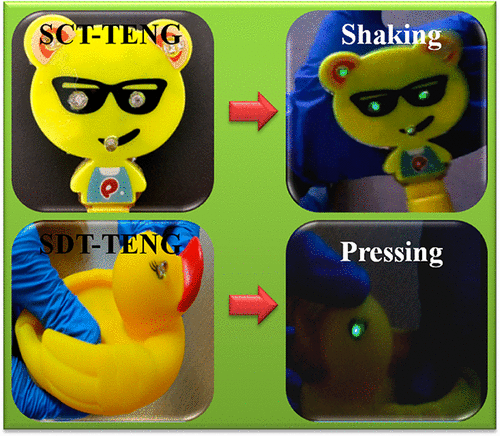 An innovative biomechanical energy harvester called a triboelectric nanogenerator (TENG) was introduced as an eco-friendly generator that scavenges waste energy. (Source: ACS Sustainable Engineering)
Toys are introduced to children basically from the beginning of their lives, and by age four most children have been exposed to some kind of electronic toy, according to the American Academy of Pediatrics. Currently, electronic toys require frequent battery changes or recharging. Researchers have been searching for a way to produce and store energy in electronic toys so users don't need to worry about batteries.
A recent promising approach uses triboelectric nanogenerators (TENGs). TENGs gather electrical charges from friction. They amplify and convert biomechanical energy into a usable form of electric energy. This method has been successful in the past but it has been hard to make it work for commercial uses, most likely because of low energy storage and conversion efficiencies. To fix this, Sang-Jae Kim and colleagues at Jeju National University in South Korea searched for a way to harness TENGs energy and use in commercially viable and self-powered smart toys.
The team designed TENGs made out of aluminum electrodes sandwiched between eco-friendly silicon-like film. These TENGs were then incorporated into rubber ducks and clapping toys. Squeezing or shaking separates and brings the electrodes into contact with the film to create an electrical charge. When the TENGs are activated they harvest enough biomechanical energy to turn on several LED lights attached to the toy. The TENGs are durable which means they should be able to operate for a long time. The researchers said that their approach can transform traditional toys into battery-free interactive toys. This research brings forward the idea that one day these TENGs could be used in other smart devices.
Read the paper on this research ACS Sustainable Chemistry & Engineering.