Tend has announced the launch of the new Lynx Solar security camera, the first solar-powered, wire-free, smart security camera to hit the market. This camera provides round-the-clock surveillance with reliable, intelligent home or business monitoring. It is also weatherproof, Wi-Fi enabled and has a 1080p HD camera that continues to operate during a power or internet failure. Lynx Solar also has fully-integrated facial recognition software.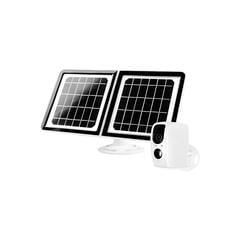 The Lynx Solar security camera (Tend)
One sunny day can power up Lynx Solar to keep it running for up to 7 days. If there is a power or internet outage, the security camera stores up to 3 days of recorded data internally. Once power and/or the internet are restored the local data is uploaded to Tend's cloud storage platform. The system can be used indoors or outdoors. Its weatherproof housing stands up to any potential weather elements.
Integrated intelligent facial recognition technology enables Lynx Solar to specifically identify who the camera is viewing. Users can upload photos of friends and family to the camera's facial recognition library and get check-in notifications when a similar face is detected and alerts if the camera sees a stranger.
The motion detector triggers the automatic recording and sends alerts to designated mobile devices. This allows for real-time monitoring of live activity through the Tend Secure App at any location. There is a two-way audio system allows remote users to communicate people, pets or other occupants. The system comes with 7 days of free, secure cloud storage to back up and review videos.
Lynx Solar pairs with any existing Wi-Fi network for 24-hour monitoring with infrared night time visibility, even in complete darkness. Multiple Lynx Solar cameras can be installed on the same network to monitor different locations at the home or business from the Tend Secure app.
This security camera is available for pre-order now for $199.99 MSRP. To learn more about this new security camera, visit the Tend site here.