Despite that fact that smart home security systems have recently garnered much attention for failing homeowners and allowing unauthorized viewing of the home (including a baby's room), surveillance systems including digital security cameras, smart locks and smart doorbells were on display at CES 2020, taking place Jan. 7-10 in Las Vegas.
Smart home security systems have been problematic for some time now. Perhaps the most notable attack occurred when these devices along with other internet of things (IoT) gadgets were used to conduct a number of distributed denial of service (DDoS) attacks on the internet, crippling several websites including PayPal, Twitter, Amazon, Netflix, Spotify, Reddit and more.
Consequently, public trust in these security devices — and home IoT devices in general — is spotty at best. Yet, it is highly doubtful that consumers will stop buying security cameras altogether, so it falls to device manufacturers to build security measures into the devices in order to protect consumer identity, privacy and to protect against future attacks.
"People will continue to buy security cameras, but they can't have peace of mind if they are worried about video from their baby-cam being leaked onto the Internet," said Aaron Zhang, CEO of SimShine. "If security camera manufacturers are to restore the trust of the general public, they'll need to take steps to provide greater security features baked right into their cameras."
SimShine was just one of many companies at CES 2020 to introduce new security cameras. The company's SimCam 1S is billed as a hack-proof video camera that uses artificial intelligence (AI), edge computing and bank-level encryption on-device to protect the product from unwanted security attacks. This is unlike other cameras that process, store and transmit video through the cloud, which makes video streams susceptible to hacking.
In the SimCam 1S, videos are stored and processed locally on the device and only homeowners can access the camera through the companion app where live videos can be streamed to a phone through a secured peer-to-peer network. Account information, such as passwords, are also stored locally and encrypted with bank-level AES-256 encryption.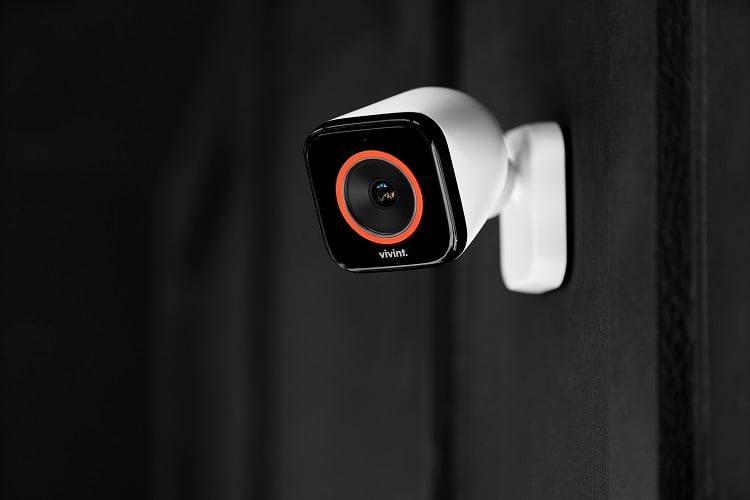 The outdoor security camera from Vivint won an award for best security camera. Source: Vivint
Vivint Smart Home earned the "Connected Security Product of the Year" for 2020 with its Vivint Outdoor Camera Pro — an AI powered security camera that detects and deters lurkers around the home.
The camera enables homeowners to choose the area of the home they want to protect by defining a surveillance zone where the system detects people within the zone, but not pets or passing cars. The Smart Sentry feature determines if a person is a lurker or if they are just delivering a package or food. The camera then deters lurkers with a red light and a warning tone.
The camera is one part of an integrated smart home system that includes a smart home hub, smart locks, lights, thermostats, doorbell, garage door control, security sensors, car protection and more.
Swann has expanded its smart home lineup with a wire-free security camera and a Wi-Fi security tracker camera. The wire-free camera keeps an unobtrusive eye on the home, both indoors and outdoors, with 1080p video, wide 180° viewing angle and facial recognition capabilities. Up to 10 people can be added in the facial recognition system. The system also includes a two-way talk function and does not require hub functionality and onboard memory to record video even when power or internet is down. The tracker camera includes direction detection, which auto-tracks and records moving objects, and auto-zoom for keeping any suspicious activity in-focus.
Israeli startup Vayyar is showcasing its Vayyar Home fall detection product, which is designed to ensure the health and safety of seniors in the home. The device eliminates the need for wearables or buttons and does not need a camera. Instead, the system detect falls, identifies intruders and calls for help, if needed.
The smart home device includes activity and sleep monitoring, and it sends an alarm if an anomaly is detected. The system works through motion sensors that track seniors in the home or in a healthcare facility to help identify trends for health conditions such as UTI, dementia and disorders like sleep apnea and psychological ailments like loneliness.
The Vayyar Home comes in a 3.5 in form factor and, once placed on a wall, automatically scans the environment, monitoring for health and safety.
TP-Link unveiled a network security solution called HomeCare Pro that protects every connected device in the home network. Users are notified if a related security function needs to be enabled or optimized to protect devices such as laptops, smartphones and IoT devices such as smart bulbs, smart thermostats, smart plugs and more.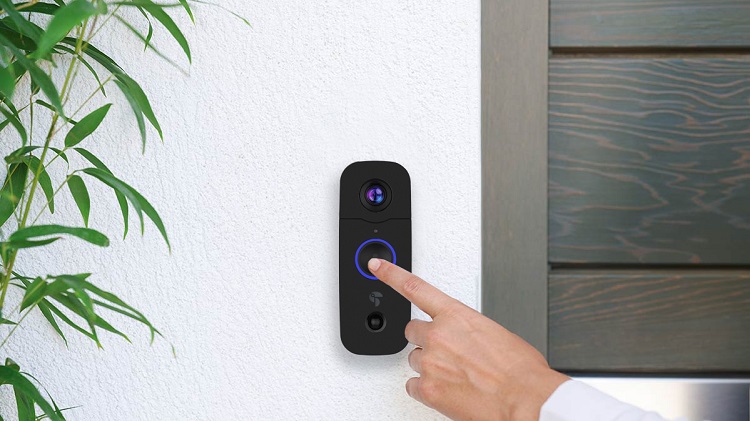 This video doorbell offers a 180° view of the doorway. Source: Toucan
Meanwhile, smart home vendor Toucan has rolled out a wireless video doorbell with chimes and a wireless outdoor camera.
The video doorbell is a battery powered smart home device that offers a 180° view to monitor the entire doorway entrance and includes a wireless chime with six different sounds. The outdoor camera includes a magnetic mount, built-in rechargeable battery, PIR sensor for motion detection, night vision and a weatherproof design.
The cameras on both devices are controlled through the Toucan app, which sends alerts when motion is detected. The system also includes features such as two-way audio, pre-recorded messages and can activate the alarm or dial 911 in case of an emergency.
D-Link's full HD Wi-Fi cameras use AI at the edge rather than the cloud. Source: D-Link
D-Link has introduced full HD smart home indoor and outdoor Wi-Fi cameras that use AI that works at the edge rather than in the cloud.
D-Link increased onboard storage capacity and wired Ethernet capability for more stable connections, allowing more ways for homeowners to save videos.
The cameras can be used to determine when kids arrive home from school, what pets are doing, when packages arrive and when unusual sounds, such as breaking glass, occur. Once one of these events occurs , the system sends an alert to the homeowner via an app.