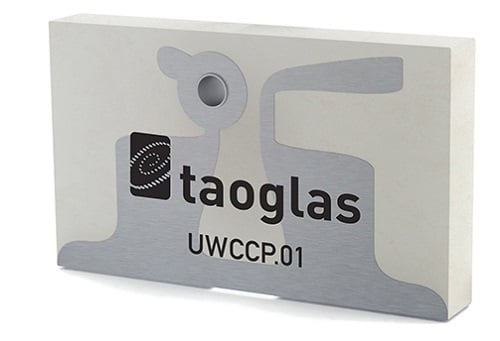 The new UWB antennas. Source: TaoglasTaoglas has launched what it claims are the first small-form-factor ultra-wideband (UWB) antennas designed for centimeter-level positioning and angle-of-arrival applications.
The antennas offer efficiency across a wide spectrum of frequency bands from 3 GHz to 10 Ghz for applications such as asset tracking, follow-me drones, healthcare monitoring, smart home services and other indoor localization applications.
Indoor wireless positioning has been hampered because technologies such as WiFi and assisted GPS were not designed for this purpose. UWB is a low-power digital wireless technology that offers a significant increase in location precision and range while transmitting large amounts of digital data short distances over a wide spectrum of frequency bands. The low power requirements of UWB means increased battery life of sensors and tags, leading to a reduction in operational costs.
The antennas feature flexible and rigid PCB embedded UWB antennas as well as UWB embedded SMT chip antennas. The antennas were developed utilizing a simple "peel and stick" assembly process, attaching securely to non-metal surfaces via 3M adhesive, with a highly flexible micro-coaxial cable mounting. There is also a version in a rigid PCB format and the antennas can be surface mounted directly onto a PCB. Both series of antennas help designers to future-proof devices, Taoglas says.
The UWB antennas are designed for use with the DecaWave DW1000 chip and are compatible with any other UWB sensor modules. The DW1000 chip has already been used in applications such as real-time location of people and assets in factories, hospitals and mines, automotive keyless entry systems, drones, connected home and sports.