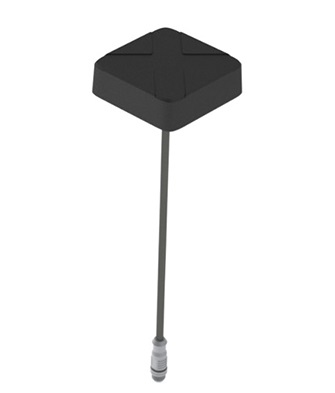 The GRS.10 smart antenna. Source: TaoglasEarly this week, Taoglas introduced what it claims is the first ultra-wideband antenna for centimeter-level positioning, now the company has released a range of high–performance GNSS antennas designed to power applications that require highly accurate location capabilities.
The new GNSS antennas can be used for applications such as navigation, unmanned aerial vehicles (UAVs), surveying, agriculture and for self-driving cars. The new range of antennas includes systems and antennas that use not only the additional functions of the Galileo, GLONDASS and BeiDou satellite systems but also the GPS L2 and L5 bands to deliver accuracy and performance.
The range includes the GRS.10 smart antenna with an integrated u-blox NEO-M8U GNSS receiver, the Torpedo series GNSS quadrifilar helical antennas for wideband satellite antennas for position-information critical applications and the BOLT A.90.A.10451111, a GNSS timing antenna for lightning-induced surge protection for base stations.
Other antennas include the ASFGP.36A.07.0100C, a ceramic GPS L1/L2 low-profile, low-axial-ratio, embedded stacked active patch antenna and the MAT.12A dueling-loop chip antenna evaluation board that delivers the advantages of a circularly polarized patch antenna with two miniaturized low-profile chip antennas on a small PCB footprint.