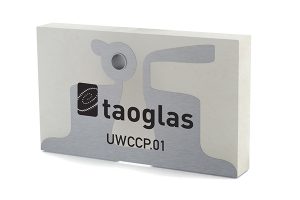 Taoglas has announced the launching of the first-ever ultra-wideband (UWB) chip antenna for centimeter-level indoor positioning. The new antenna is specifically designed for applications including positioning and-angle-of-arrival, asset tracking, follow-me-drones, healthcare monitoring, smart home services and many other applications requiring high-performance indoor localization capabilities.
UWB technology is a low-power digital wireless technology that significantly increases indoor precision and range of positioning compared with Bluetooth, Wi-Fi or assisted GPS. In addition, UWB's low-power needs help to increase battery life of small devices, hence reducing the cost of any operation.
"Today's emerging applications require very precise indoor localization of assets, objects and people," said Ronan Quinlan, co-CEO, Taoglas. "UWB can work as a type of 'indoor GPS' to help solve the precision dilemma for indoor applications, bringing much greater levels of precision than current technologies. We optimize complex antenna performance parameters such as the Group Delay, Polarization and Fidelity Factor. Taoglas' first-to-market line of UWB antennas are designed to help our customers capitalize on this need for real-time precision localization, with the quality, reliability and flexibility they've come to expect from working with Taoglas. One particular antenna we co-developed exclusively with DecaWave is the UWCCP.01 circularly polarized chip antenna, the first mass-market antenna specifically designed to enable a new generation of autonomous applications."
About Taoglas
Taoglas provides advanced antenna and RF solutions to the world's leading wireless and Internet of Things (IoT) companies. With five world-class design, support and test centers in Ireland, Germany, Taiwan and the USA, Taoglas works with its customers to provide the best solution for their unique antenna and RF challenges, quickly and easily. For more information, visit www.taoglas.com.