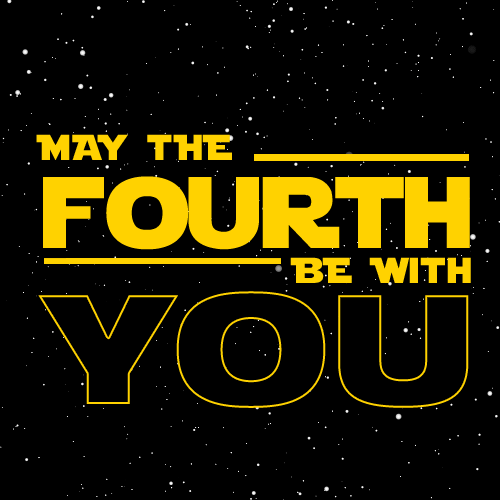 Fan-made animated logo for Star Wars Day. Source: Creative Commons CC0, via Wikimedia Commons
May the Fourth Be with You.
Yep, it's "Star Wars Day," so called because of the similarity between a certain way of referring to today's date and the famous franchise catchphrase. According to Wikipedia, the first organized celebration of the day was in 2011, when the Toronto Underground Cinema (now closed, sad to say) held a costume contest, trivia game show and a smattering of tribute films, mash-ups and parodies. The day has continued to be honored in ways large and small ever since. Here are 10 ways to celebrate:
Take this fun online quiz from the Australian Broadcasting Corporation, which taunts you with the challenge "Do you know your Twi'leks from your Togrutas?" Admittedly, I don't know what either of those things is.
Dress up. You may want to check with workplace policies on wearing intergalactic gear to the office, however — and you'll definitely want to leave your light saber at home.
Got kids, or kids at heart? Get creative with Star Wars crafts. Check out Pinterest for inspiration. Or this collection of 75 crafts for kids from TheNerdsWife.com — a site is run by Dallas-based Arena Blake, a self-described "wife of a Nerd and mom of a toddler who loves his Star Wars blankie a little too much."
Host a movie marathon. You've certainly got plenty of films to choose from. You could even watch them in chronological order to follow the episodic arc, rather than in the somewhat illogical order in which they were released (who starts a series of films with "Episode IV"?).
Don't settle for plain old popcorn at your movie marathon; you can find all kinds of recipes for Star Wars-themed foods and beverages online, from crunchy Chewbacca Cookies to blue-tinted Bantha milk.
Stop watching movies all the time and read a book for galaxy's sake. Any one of these might do nicely.
Check listings for any local festivities; a quick Google search brings up tons of them. Here's one that jumped right out at me: the Denver International Airport has planned something — I'm not sure what, as they seem to be keeping it under wraps — for 10 a.m. on the fourth. According to the airport's Twitter page, though, you can rest assured that "Shuttles to the Death Star are departing on time."
Speaking of Twitter, you can use the hashtag #StarWarsDay to share your celebrations and inspirations. Or this article.
Buy stuff from a myriad of sites intent on cashing in on the craze. You can find deals on StarWars.com, of course — as well as Amazon.com, LEGO.com, ThinkGeek.com and a bunch more.
Even if you don't want to go down the merchandise-indulgence path, you'll certainly want to consider getting tickets for the new Star Wars film that hits theaters on May 25, 2018. Directed by Ron Howard, "Solo: A Star Wars Story" follows the adventures of a young Han Solo as part of the Anthology series — standalone adventures not tied to the main episodic saga. According to Deadline Hollywood, the tickets go on sale on Star Wars Day at midnight. That means, if you're reading this, you should be able to scoop them up.
Got other ideas? Of course you do. Feel free to tell us in the comments below. Oh, and May the Fourth Be … oh heck. You know the rest.