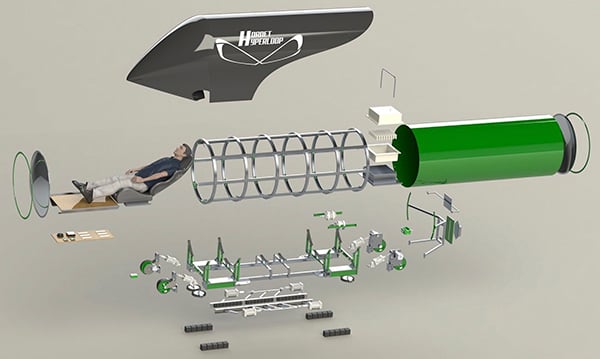 Sacramento State's prototype build of its Hyperloop pod. Source: CSU SacramentoCalifornia State University, Sacramento is a small school in the heart of the largest state in the union's capital. It is an unlikely place to find one of the finalists in SpaceX's 2017 Hyperloop competition.
Yet, the university is one of just 24 universities chosen from around the world to compete in the second round of Elon Musk's challenge to build what is being called the fifth mode of transportation. The school will go toe-to-toe with other teams from Princeton, Purdue, Virginia Tech, Technical University of Munich of Germany, India's BITS Pilani and many more.
Hyperloop is a mode of transportation where pods transport people at super high speeds through a tunnel connecting cities that used to be hours apart to just minutes apart. As part of the competition, the 24 teams will race their pods in August along a mile-long test track at SpaceX's headquarters in Hawthorne, California.
Sacramento State's team of 56 engineers will produce a vehicle 13 feet long and made of aircraft-grade materials that will travel at more than 200 mph with a life-sized dummy on board.
Now, the team needs to raise a minimum of $60,000 to build, test and run their pod.
"We have passed through all of the design phases — on each one, many teams get cut—to be one of the 24 in the world allowed to take pods to SpaceX," said Paul Orozco, team captain and a mechanical engineering student who graduates in May. "We are starting the procurement of materials for the pod."
The engineering students plan to craft the vehicle over the summer and unveil it publically prior to the competition and then test it on SpaceX's track on Aug. 25-27.