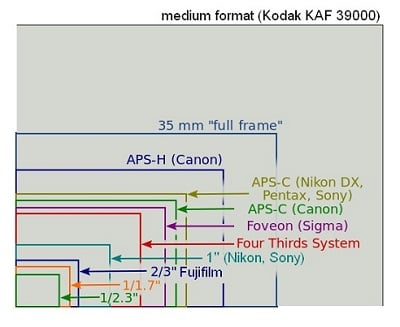 Source: MarcusGR / CC-BY-SA-4.0
Digital cameras differ from their predecessors as image capture is accomplished via a solid-state image sensor rather than photographic film. The sensor is divided up into small segments called pixels. To some degree, the resolution of the image is a function of the number of pixels, but equally if not more important are the size of the pixels, the image sensor format and associated circuitry, which in part dictates image noise and dynamic range.
Larger film formats allow for larger pixels. The larger pixels gather more light reducing image noise due to signal distortion reduction. The increased light exposure also allows for better low-light performance and faster shutter speeds. An improved dynamic range is also experienced with a wider range of ISO settings that result in superior image quality when capturing the high-contrast scenery. In short, the improved dynamic range helps preserve the definition of both bright and dark objects while the size and number of pixels in your camera will govern how large you can print your image without losing quality.
Image Sensor Format
The image sensor format refers to the size of the image sensor. In film photography, 35 mm, also referred to as full-format or 135 film format, became the standard. It was the most widely used film format proven in performance and cornered the market in film photography with the introduction of 35 mm cartridges that can be loaded in the camera in broad daylight.
Medium-format and large-format film or sensors are considerably larger than a full-format sensor. Medium format ranges in size from anything larger than full-format up to four inches by five inches where large format starts.
The main advantages of large or medium formats are that they offer a higher resolution at the same pixel pitch or achieve the same resolution with larger pixels or grains. In comparison, a four × five inch medium format has about 16 times the area, captures a wider viewing area without distortion and achieves 16 times the total resolution of a 35 mm frame.
In the digital realm, large-format and medium-format image sensors are exclusive to high-end professional cameras and niche applications in studio, industrial and scientific communities. There exist several smaller image formats, including full-format, APS-H, APS-C, four-thirds, one inch, 1/1.7 inch and 1/2.3 inch image sensor formats and the device and its packaging often dictate the image sensor format.
DSLR
A Digital Single Lens Reflex (DSLR) camera is unique as a mirror behind the lens directs light toward a viewfinder that gives the user the exact visual that is recorded by the image sensor. This type of camera also incorporates a lens mount, and the base camera can be matched with a lens that suits the photographer's needs, including telephoto lenses, zoom lenses or fixed aperture macro lenses. Aside from the enhanced optics, they also have a larger footprint and incorporate a larger image sensor format.
Most DSLR manufacturers came to the market featuring a four-thirds or one-inch image sensor format. As the number of pixels in the image sensor increased, manufacturers began offering larger image sensors, including APS-C, APS-H and full-format sensors to achieve the same dynamic range users expect from a professional camera while increasing the pixel count to allow for higher resolution and larger print quality photos.
APS-C is now the most common image sensor format for DSLRs measuring 24 x 16 mm versus the 36 x 24 mm full-format sensor. There are also minor differences in the size of the APS-C sensor, and a hybrid APS-H was also developed by Canon to offer greater shutter speeds and higher ISO performance at modest pixel counts but has since been discontinued. At 24 megapixels, an APS-C sensor equates to a pixel size of 3.9 microns. A micro four thirds can achieve comparable ISO performance at 16 megapixels, but beyond that your ISO setting will suffer and the camera will not function well in low-light and or in high-contrast scenes.
Wildlife and sports photographers may opt for an APS-C format over full-format due to the smaller viewing area that magnifies the telephoto effect. This helps achieve up-front and close images without cropping. Although if the primary application is studio or landscape photography, a photographer will want the largest image sensor format possible.
Premium Compact Cameras
Compact camera sensors are available with APS-C, micro four-thirds or one-inch image sensor formats. The market is geared toward auto-focus and superior low-light performance. Paying a premium for 20-megapixel point-and-click camera results in a camera with decreased dynamic range, as the related pixel size on a one-inch sensor comes in at 2.4 microns. The market for premium compact cameras is slowly declining as smartphones are being developed with superior imaging capabilities. But, for those who are are still in the habit of printing photos up to 8 x 10 inches, a modern point-and-click camera will reign superiority over any smartphone on the market.
Smartphones
The camera on a smartphone has become a selling point and the latest devices push the limits of what's possible in a miniature package. They do, however, suffer from a decreased image sensor format. What is considered large in the realm of smartphones comes in at 7.81 mm. At 12 megapixels, pixel size is 1.55 microns; comparing photos taken with a 24 MP APS-C DSLR reveals the higher level of detail, better low-light performance and, overall, considerably better image quality.
Conclusion
The hype surrounding digital photography is real and with the advent of advanced circuitry, including the latest stacked CMOS sensors with backside illumination (BSI), manufacturers are able to capture superior performance in low-light applications. These latest technology advances have made improved image quality possible. However, the thing to remember when it is time to purchase a new device, whether it's a smartphone, compact digital camera or DSLR, is that there is much more to consider than the number of pixels. For the semi-amateur photographer looking for superior image quality worthy of poster size prints, don't look for that type of performance from any smartphone on the market. The format is just too small.
Resources:
Complete Guide to Image Sensor Pixel Size
Digital Camera Sensors Explained