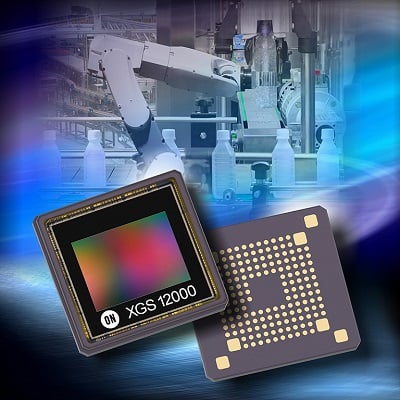 The XGS 12000 image sensor. Source: ON Semiconductor
ON Semiconductor has introduced a new image sensor platform that allows a single camera design to support not just multiple product resolutions but also different pixel functionality.
The first devices in the series include a 12 megapixel XGS 12000 and 4K UHD resolution XGS 8000 image sensor for high-performance imaging capabilities for machine vision, intelligent transportation systems and broadcast imaging.
The X-Class image sensor platform supports different pixel architectures through a common high-bandwidth, low-power interface that allows camera OEMs to leverage existing parts inventory while at the same time accelerating time to market for new camera designs.
The XGS 12000 image sensor provides a 12 megapixel resolution in a one-inch optical format to supply the imaging detail and performance needed for modern machine vision and inspection applications. It comes in two speed grades: One that uses 10 Gb Ethernet interfaces and a cheaper version that provides 27 fps at full resolution through a USB 3.0 interface.
The XGS 8000 image sensor provides 4K resolution in a 1/1.1 inch optical format with two speed grades (130 and 75 fps) applicable for broadcast applications.
Both image sensors are expected to begin sampling in the second quarter of this year with a target for production in the third quarter.