It seems that it was just a few years ago when a design engineer told me that a four-megapixel mobile phone camera was overkill. Now, however, the new Samsung Galaxy, sporting a 12-megapixel dual-pixel sensor, is a first that provides superfast autofocus. But do we really need all of this resolution? What drives the need for ever-higher smartphone camera pixel count today—bragging rights or stunning selfies? And when will the number of megapixels be enough?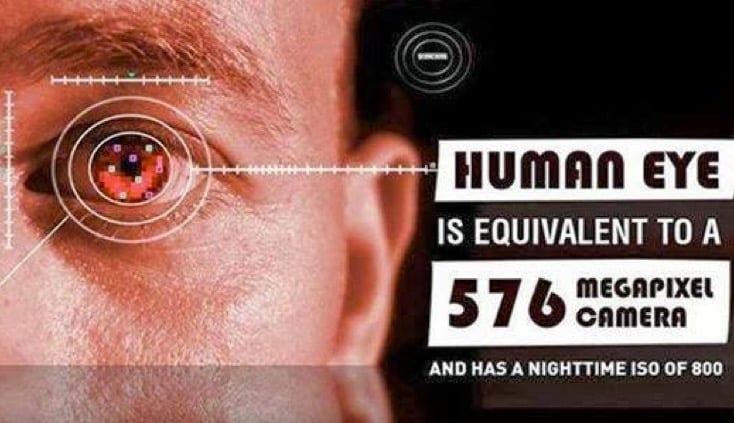 According to ClarkVision, the human eye is a 576-megapixel camera with an ISO of approximately 800. Graphic: Muththiha Harishan
On the way to mirroring the human eye, we have a distance to travel to reach the goal. By looking at the math provided by
ClarkVision
, the equivalent number of megapixels in a camera totals 576. And while full-frame cameras are pushing towards 100 megapixels, it will probably take sensor technology some time to come close to mirroring the human eye. And does this camera have to be as good at it as we are?
So what is image resolution exactly? Image resolution equates to image detail—the greater the resolution, the greater the detail. If high resolution means more image detail, does it just mean how well you can see that hummingbird extracting nectar from the stunning flower? No, it also has to do with how large you can print, how much you are able to crop, how far you can blow up an image and more. So an easy answer to the question, "Do we really need pixel counts in the mid-teens?," can be answered with, "Do you do these things, or are you just interested in seeing the hummingbird?" If you don't do these things, well, you are probably looking more to the bragging rights involved.
You gotta have a gimmick…
Traditionally a more advanced camera with a large sensor will trump the low-end point-and-shoot camera with a small sensor, even if both sport the same number of megapixels. Cameras based on small sensors don't capture as much light, yielding less dynamic range and photos that aren't as clean as DSLR-based cameras.
There are standards that dictate how smaller sensors can be adequate for fairly high-end shots. One example is the four-thirds standard based on a small (13 x 17.3 mm) sensor and developed by Kodak and Olympus. Four-thirds cameras have a 4:3 aspect ratio instead of the normal 3:2 of APS. A take-off standard, micro four-thirds, has the same sensor size and qualities of four-thirds. Created by Olympus and Panasonic, micro four-thirds cameras don't have a mirror and are small and light, but their downside is slower autofocusing and the image quality isn't as strong.
Micro four-thirds cameras yield over 12 megapixels, which is in the medium- resolution range. High resolution is between 13–16 MP.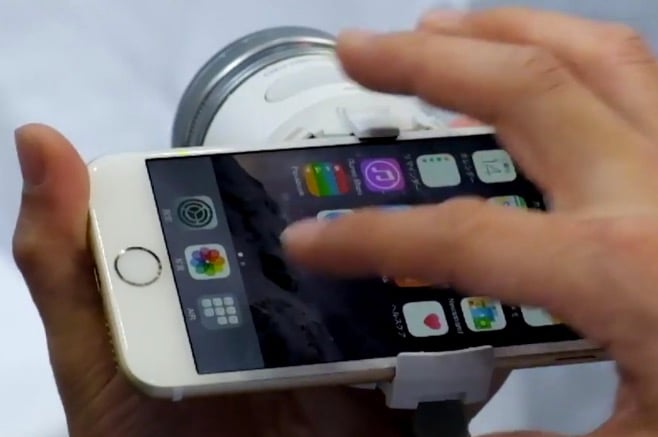 The Olympus Air 01 Micro Four Thirds (MFT) interchangeable lens camera features a lens adapter for use with iOS 7.0 or higher and Android 4.0 or higher devices. Source: Olympus
The Olympus Air lens mount is compatible with MFT lenses from Olympus, Panasonic and others.
Like the attachable lens, other manufacturers are addressing the shortcomings of the smartphone format for high-end cameras. Several manufacturers are working around light and speed issues in a variety of ways. For example:
The Huawei P9, also known as a "pocket DSLR"—a joint effort between Huawei and Leica—features a dual-camera setup. Rear Leica cameras offer 12 MP resolution with f/2.2 apertures. Huawei's "Professional Mode" is a manual interface that enables the user to adjust shutter speed, ISO, white balance and more to achieve sharp pictures.  
Samsung dropped the number of MPs with the Galaxy S7. The 12 MP f/1.9 aperture dual-pixel technology rear camera joins a front camera at 5 MP with an f/1.7 aperture to work around low-light conditions based on the large aperture. The S7 also includes an optical image stabilizer that compensates for shaky arms and hands. There are also slow-motion, time-lapse, numerous presets, fixed focus and adjustable exposure values.
The LG V10 relies on its versatile camera software and manual controls to coax out better photos and video. It also does well in low-light environments with its f/1.8 aperture lens. LG autofocus and processing technology handles blur, even in difficult photo circumstances. Two front-facing cameras can be combined to take photos at 120° angles, and the 16 MP rear camera operates at a very high level.
The Nexus 6P features a 12.3 MP Sony sensor, a dual-LED flash and laser autofocus. The company claims its larger pixels capture more detail and improve performance in low-light conditions, so it eliminated OIS. Some disagree the move was valid. There is also criticism of the camera's autofocus accuracy—causing users to manually focus.
It's not just about tweaking light conditions. In digital photography, ISO is equivalent to sensitivity, and every user should be aware of these settings, no matter which camera is used. When ISO is set is too high, it will cause noise; when it is set too low, it will cause a lack of sensitivity. A phone's ISO settings are the same as film speed on your standard camera. In dark settings, using 400 is reasonable. What happens if the ISO is not set properly? If your camera automatically uses ISO 100 and a shutter speed of 1/40, your results will be blurred. In using a 400 ISO, there is a shorter exposure time (approximately 1/200). Light conditions and ISO are two aspects that should be mastered by users.
100 MP or bust
So are we on our way to 100 MP? Probably. Display technology is evolving rapidly and could include a disruptive factor that might help—the same with sensors that will provide for user interaction and image manipulation. In addition, expect that there will be sound-capture technology advances in video. Processor speeds are front and center to smartphone camera developments, especially for video sharing. When considering all of the advances culminating in smartphones, the possibilities are endless.