Zing is a smart, AI-powered nightlight that will change the way people use nightlights. The full-color, plug-in device offers smartphone control, billions of color options and light effects and automatic blue light reduction. Reducing blue light emissions at bedtime helps regulate melatonin levels, which has been demonstrated to improve sleep.
Zing is powered by 12 full-color RGB+White LEDs that are capable of over four billion colors and 512 levels of brightness. The LED elements allow for a full-range of light effects like "camp fire" or "northern lights." The user controls lighting brightness and color through the Zing smartphone app. Events and triggers can be assigned their own colors and effects.
Zing is Bluetooth 4.2 and Wi-Fi adaptable. It acts as a visual indicator that a smartphone is receiving incoming calls or notifications. The optional Zing Locator service can track and locate most of the Bluetooth-adaptable devices in a home with room-level accuracy.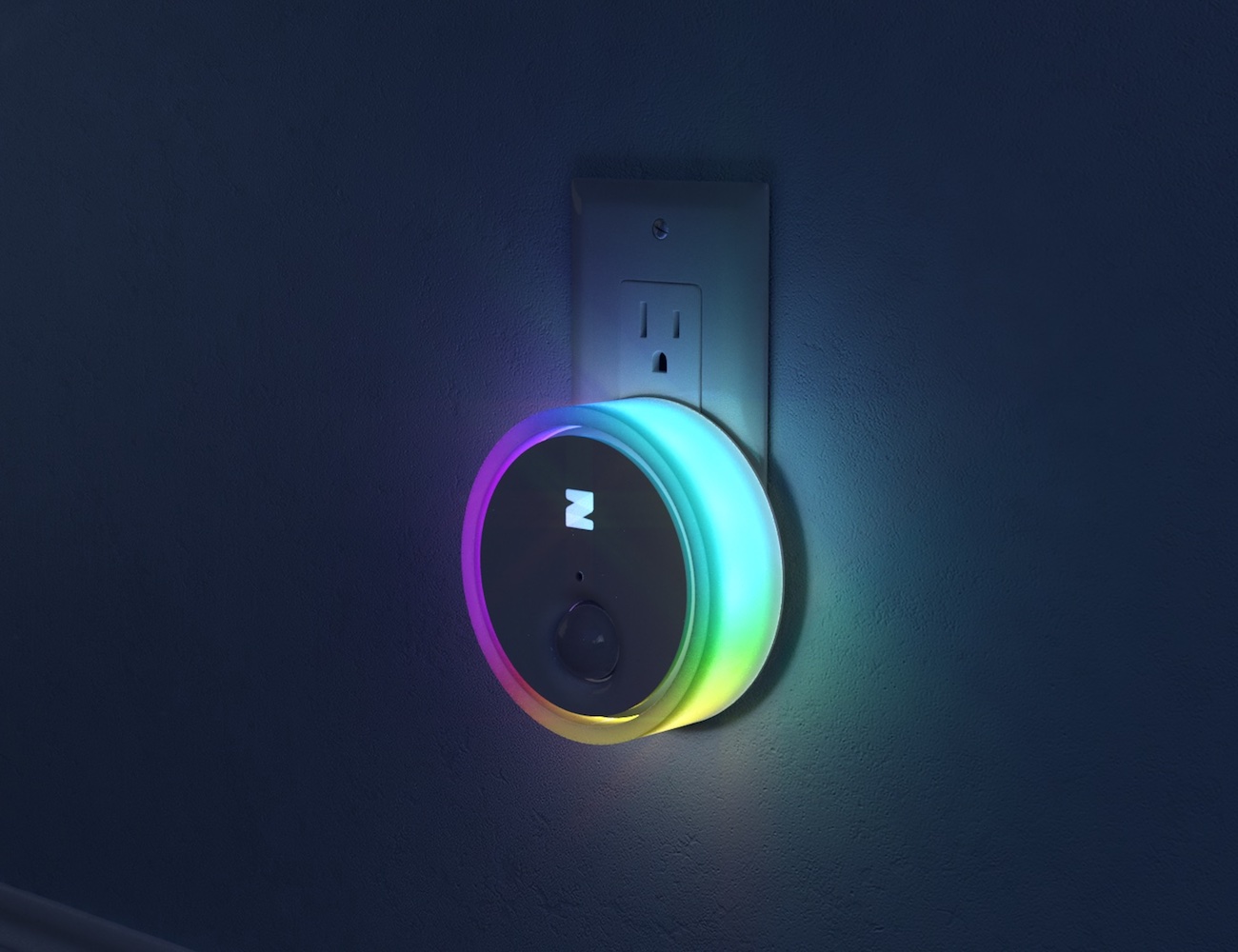 The Zing smart nightlight. Source: Zing/Kickstarter
The energy-efficient LED nightlight has dusk-to-dawn light and motion sensors. When Zing detects motion, it will gently power up to 40 percent intensity through its bottom LED lights, which helps user navigate without harsh, blinding light, gradually returning to standby after the motion stops.
When used together, multiple Zing lights learn and automatically illuminate a path around your house at night. The device learns about a user's typical movements and notifies the user of unusual and suspicious motion activities via push notifications to a smartphone.
Traditional motion sensor lights will only light up when they detect motion front of their lights and in range of their sensors. Zing is different. It automatically learns and predicts the user's entire path at night. Any Zings along the anticipated route will light up with a soft glow when the first movement is detected. Zing observes and learns movement patterns over seven to 10 days.
A system of Zing nightlights continuously calculates the conditional probability of an imminent motion event. When the predicted probability is high enough, Zing will turn on. The whole process happens without the need to configure and is self-correcting. Zing will change with changes in nighttime habits. Zing works its magic securely without servers. The predictions are made individually within Zing and never leave the house. No Wi-Fi connection is needed or required.
Zing can also help you locate your Bluetooth enabled devices, like key trackers, fitness bands, smartwatches and smartphones. Zing Locator combines the Bluetooth signals into a real-time position of each item and makes their locations accessible via the Zing app or voice commands through Amazon Alexa or Google Assistant. To turn on the location service, install a Zing in each room, configure the Zing Locator service and track all the gadgets in the house. Zing Locator works with most Bluetooth Smart devices.
Zing pairs with your phone and acts like a visual indicator for incoming calls, text messages, and other smartphones events. This visual indicator would be a good option for someone who is hearing impaired and might not hear when they receive an alert on their phone.
The smart nightlight is built with open technologies and can interface with other home automation platforms like Amazon Alexa, Google Home or other smart home devices.
The light consists of 12x RGB/W full color +2700˚K warm-white LEDs with a 120-hertz refresh rate. It has a light/dusk sensor, passive infrared sensor and digital thermometer. It has Wi-Fi 2.4-gigahertz and Bluetooth Smart/Bluetooth Low Energy v.42 connectivity. Zing also has Xtensa Dual-Core 32-bit LX6 microprocessor that operates at 160 megahertz.
To learn more about Zing, visit the Kickstarter page here.