Contract Design and Manufacturing Services
Decorating Glass: Sandblasting or Laser Etching?
25 August 2017
Sponsored content
An Epilog laser can create a nearly endless variety of projects. One of its most striking uses is glass decorating, which can be applied to attractive awards, stylized barware, elegant wedding adornments, keepsake wine bottles and much more. Words, logos and designs can be laser-engraved onto almost any glass product.
Glass Decorating Methods
When it comes to decorating glass, there is more than one method to choose from. A popular alternative to laser engraving is sandblasting. Both methods have their pros and cons; many shops that offer glass decorating use a combination of methods to achieve the best results.
Sandblasting uses a pressurized abrasive stream to etch into the glass surface, creating a deep and permanent mark. The mark is smooth and even, and allows for considerable intricacy of design. Sandblasting is labor-intensive: each glass item is prepped with a hand-applied film (also called a resist) and protective taping, blasted individually in a special cabinet, then rinsed clean of residue. Because of the equipment and labor involved, sandblasting tends to be a high-quality—but costly—method for decorating glass.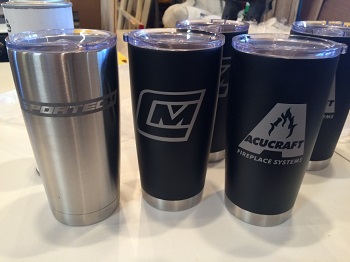 Figure 1: Example mug designs. Stainless steel (left) created by sandblasting; black mugs (right) created by laser engraving. (Source: Laser Custom Creations)Laser engraving, by contrast, uses the laser like a writing instrument to vaporize the glass surface as it makes contact. This creates a micro-fracture that permanently marks the glass; not unlike sandblasting, the mark will have a frosted white appearance. A major advantage of using the laser for glass decorating is a reduction in both time and labor. It also does not require any additional special materials, such as sandblast resist film. The optional rotary attachment, available on most Epilog Laser systems, enables engraving to be performed all the way around the glass surface.
Choosing the Best Method for the Project
Laser Custom Creations in Andover, Minnesota, is a small shop that does about a 50/50 split between laser and sandblasting methods. According to co-owner Terry Larkin, a key consideration is budget. Larkin mentions a craft brewery that was just getting started in his neighborhood; the owners approached him for a price quote to put their logo on glassware. Larkin felt that the smooth finish of sandblasting would be the best way to go because the glass would be repeatedly handled by customers. But his quote came in much higher than a quote the brewery owners had received from another business intending to do the work with laser engraving. Larkin's solution was to create a prototype, with the logo sand-etched onto one side and laser-engraved onto the other. After seeing the difference, the owners decided to go the more expensive route.
"It's like taking sandpaper to a piece of wood," Larkin explains. "After you've sanded it, it's gorgeous. It's very smooth."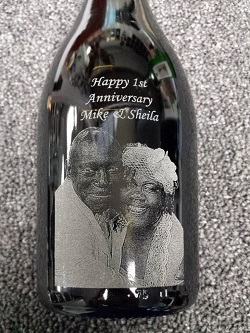 Figure 2: Photographic decoration applied to wine bottle via laser engraving. (Source: One Stop Awards)At the same time, Larkin's shop produces a steady volume of awards that are done strictly with laser engraving. It's a quicker process for the business and a less expensive option for the client. As awards are not a product that is regularly touched, the smoothness of sandblasting is less crucial.
Combining Both Methods
Greg Frye of One Stop Awards, based in Woodbridge, Virginia, employs the two engraving methods in conjunction on many of the products his shop creates. Generally, laser engraving is his first step; if he has extra time, he follows up with sand-etching to impart a more even finish.
"It's my personal preference to sand-etch it after laser," he says. "A lot has to do with the budget of the customer. Are they looking just for someone's name engraved on a beer stein, or are they looking for a nicer, deep etch?"
There are times when Frye will use only one of the two methods. One example is engraving photographs onto glass, for which he will use only the laser. As he explains, the image gets converted to a series of dots to form its light and dark areas. Dots that are closer together represent lighter areas, while darker areas are created by dots that are further apart. Frye has found that the resist film employed by the sandblaster will not hold up to the darker areas. "You're going to blow those away," he says. "You will lose some of your finer resolution."
Similarly, Frye uses only the sandblaster for pieces with an odd shape that prove difficult to spin on the rotary attachment, such as an oval, or for decorating the inside of a glass where the laser cannot reach. But because of its efficiency, the laser-only method is his go-to for clients in a hurry. He says that at his shop, less than 30 miles outside of Washington, D.C., "Customers will come in and say, 'Hey, I need this etched on this glass, and my plane leaves in 10 minutes.'"
Rotary Attachment
For the laser engraving route, the optional rotary attachment is the essential accessory for glass engraving on an Epilog laser system. The attachment is available for all systems except the entry-level Zing 16 and the G2 Galvo, which is specifically designed for engraving metals and engineered plastics.
The attachment is made to be intuitive and easy-to-use, allowing fast switching from one glass item to another. In addition, Epilog's proprietary design enables accurate image scaling with no special measurements or calculations. Also available for the Fusion M2 series is a precision three-jaw chuck rotary attachment that can accommodate oddly-shaped, non-cylindrical items, thanks to its unique mechanical clamp design.
Explore
Epilog maintains an extensive knowledge base on its website for those interested in exploring the possibilities of glass engraving with an Epilog laser. There is also a vibrant Facebook community of makers who share their projects and ideas with one another online.
Upon request, the company will also provide information packets and glass samples—and can even test glass sent by customers.
Larkin, of Laser Custom Creations, mentions how much he enjoys the association with Epilog, which includes monthly emails and sample projects to generate ideas. He reports that he had to utilize Epilog support only once, but describes it as "stellar." Larkin says that the company communicates just as smoothly with customers just starting out as they do with fellow engineers. "They speak to you in the language that you're comfortable with," he says.
Find Free Electronics Datasheets