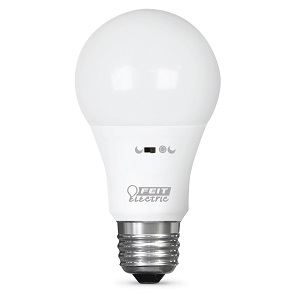 Feit's motion activated LED bulb. Image credit: Feit Electric
Light emitting diode (LED) bulbs have become a way to easily introduce users to the smart home by swapping out conventional lighting with more energy-efficient bulbs.
There are LED bulbs that respond to voice commands, LEDs that stream music and now LED bulbs that respond to motion.
Feit Electric has introduced a line of smart LED bulbs that do not require any special hardware, mobile apps, dimmer or switches. Instead, the commands are built into the bulb itself. The LEDs can be controlled via motion or by a light switch already in homes, something Feit says is a benefit to those homeowners that do not want the hassle of having to install new fixtures or download software.
Five new versions of its IntelliBulb LED lighting products are being rolled out, including the motion sensor bulb that allows for hands-free control of the bulbs from up to 19 feet away. Feit says the bulbs have a 180-degree sensor that detects motion but is not affected by wind or the environment, allowing it to be used in outdoor fixtures.
The second LED, the Dusk to Dawn bulb, has a built-in light sensor that automatically turns the bulb on at night and off during the day. The Switch to Dim bulb allows for three dimming levels to adjust the brightness of the bulb without a dimmer switch. The Color Choice bulb allows for three colors in one bulb—warm white, cool white or daylight—by using a standard switch. And finally the Battery Backup bulb allows for up to three hours of reliable emergency backup lighting.