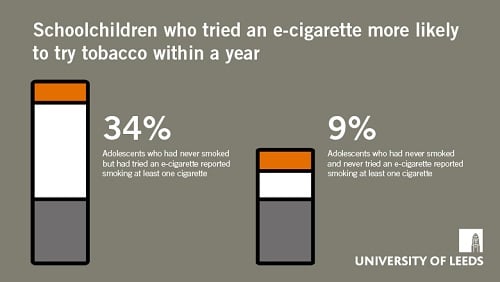 A study found 34% of those that had used an e-cigarette, one year later had tried at least one cigarette. Source: University of Leeds Tobacco vaporizers, which are basically a lithium-ion battery-powered e-cigarette, are being marketed to help smokers switch to a safer alternative.
However, new research raises concerns that e-cigarettes may be playing a role in adolescents trying real cigarettes.
The study, conducted by the University of Leeds, surveyed 2,836 children from 20 schools in England. Some had tried tobacco but the vast majority were non-smokers. One-third of those surveyed use an e-cigarette.
These same adolescents were surveyed again a year later and of those that had never smoked but tried an e-cigarette, 34% reported smoking at least one cigarette over the year. Of those that had not smoked or used an e-cigarette, 9% tried at least one cigarette.
"The findings suggest that among the teenagers who had never smoked, the use of e-cigarettes was a strong predicator that within 12 months they would have tried a conventional cigarette," says Prof. Mark Conner, an applied social psychologist at the University of Leeds. "It is impossible to say if these young people were just experimenting with cigarettes or were becoming more regular smokers."
Researchers say the data reveals that e-cigarette use was a greater risk factor for starting smoking in those with no smoking friends, than for those who had a friendship network where most smoked.
"Adolescents who have used e-cigarettes and who initially have no friends who smoke may be at particular risk of starting to smoke cigarettes," says Prof. Sarah Grogan, researcher from Manchester Metropolitan University. "This is particularly interesting as it runs contrary to the suggestion that adolescents who try e-cigarettes would have been likely to try smoking anyway due to factors such as peer pressure from friends who smoke."
Researchers also looked at teenagers who had already smoked at least one cigarette at the start of the study. Among those that tried an e-cigarette, 24% increased their cigarette smoking, while for those who had not tried an e-cigarette only 13% increased their smoking.
Researchers believe it is possible that the use of e-cigarettes normalizes smoking or leads to nicotine addiction, however there is no evidence of this yet.
The study took place prior to a new generation of e-cigarette devices that have come to market that closely mimic the way cigarettes work. Researchers believe further research needs to be done to see the impact this has on teenagers.
"With e-cigarette use being such a recent phenomenon further long term studies are required to determine if e-cigarette use really causes an increase in smoking in adolescents," Conner says.