Since the publication of exposés in The New York Times and London's The Observer on March 17, the Cambridge Analytica-Facebook data scandal has dominated news cycles around the world. The controversy centers around the fact that Cambridge Analytica — a British consulting firm — was able to covertly mine the personal details of up to 87 million Facebook users beginning in 2014, use that data to build psychometric profiles and then use these profiles to influence voting in the 2016 U.S. presidential election.
In the weeks since, Facebook founder and CEO Mark Zuckerberg was demonized by lawmakers, tech evangelists, media outlets and online users alike. Public calls for his resignation became frequent. Facebook's stock price tumbled from $185.09 on March 16 to $152.22 on March 27, its lowest point since July 2017.
Facebook has weathered privacy crises in the past; each time, the company pledges to its users that it will do better, until the next privacy breach occurs. Critics of the social network often cite privacy and surveillance concerns and compare it to the ever-watchful eye of Big Brother in George Orwell's "1984." While Facebook is transparent about how it leverages and shares user data, relatively few of the site's 2.2 billion monthly active users likely understand exactly how their data is used.
That it takes a major scandal involving tens of millions of profiles to shake users awake is worrisome. The fact that social networks can lull users back to sleep despite invaded privacy and countless correlations between social media use and decreased well-being is even more concerning. Fifteen years after it broke on the tech scene, social media may be evolving into a shadow of the tobacco industry: executives who seem to care little about their product's users, who know it's bad for them but can't seem to quit.
Risks and Benefits
Comparing social media to Big Tobacco is an extreme stretch, though. Smoking carries little to no positive impact, and while reports highlighting the negative effects of social media far outnumber ones touting its benefits, the latter do exist.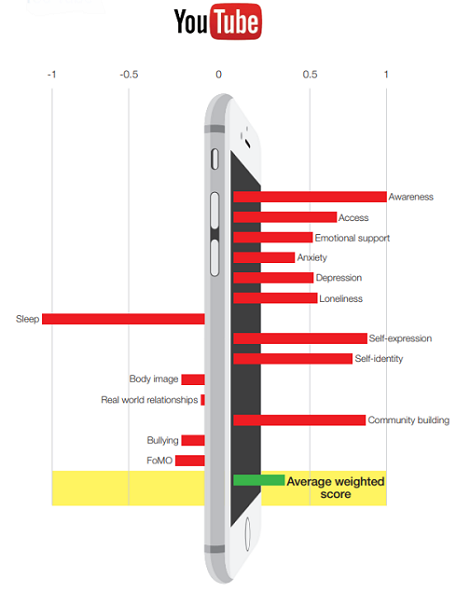 RSPH found YouTube to have the most positive impact on its users...The #StatusofMind report, released last year by the Royal Society for Public Health (RSPH), has provided one of the best benchmarks for social media's effects on young people. In early 2017, RSPH surveyed nearly 1,500 U.K. 14-24 year olds, asking how five of the most popular social media networks — Facebook, Twitter, YouTube, Snapchat and Instagram — affect them. Participants were asked to rate 14 factors — including positive emotional support, self-expression, anxiety, depression, sleep disturbance, body image and fear of missing out (FoMO) — for each network, on a scale from -2 (much worse) to 0 (no effect) to +2 (much better).
Measuring the effects of each network on this scale paints a more balanced picture than the extreme "social media is fine" and "social media is pure evil" viewpoints. And the study's broader finding that 91 percent of 16-24 year olds use one or more social networks confirms the fact that social media is now a dominant force on youth and the coming-of-age experience.
In the end, only YouTube eked out a net positive result in RSPH's study. Some significant findings from #StatusofMind include:
All five networks were rated as significantly disruptive to sleep. Sleep disruption was by far the most negative dimension across social media as a whole.
Self-expression was noted as a positive factor for all five networks. Community building was also a net positive across the board, with YouTube and Twitter showing the highest positive scores in that area.
YouTube was the only network reported to have a positive effect on anxiety, depression and loneliness. Respondents reported that the other four networks made them feel lonelier, anxious and depressed, with Facebook and Instagram scoring lowest in most of these areas.
YouTube's net positive was largely due to a very high score in the "awareness of others' health experiences" area. Respondents rated the other networks as having little effect, positive or negative, in that area.
Image-heavy networks Snapchat and Instagram were rated as the two most negative networks, with significantly negative scores for body image, FoMO and bullying and less positive scores for almost all other factors.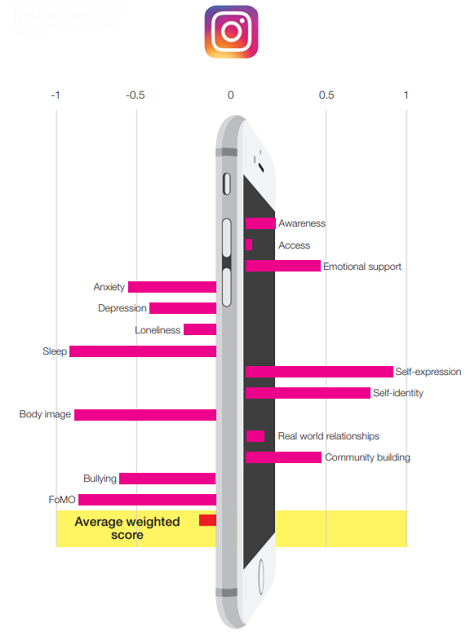 ...while Instagram had the most negative. Source: RSPH#StatusofMind is careful to balance negative survey findings with positive anecdotes from respondents. Many reported that social networks provided emotional support at times when other outlets were not available, and others said they were able to express emotions on social media that they were uncomfortable saying in real life. While long-time critics of digital communication like MIT's Sherry Turkle raise the "alone together" argument — that despite living in the most socially connected era of human history, humanity is probably lonelier and more depressed than ever — it's clear that respondents appreciate social media's connective capabilities when it's the only option available.
The report concludes with recommendations for improving social media's negative effects. These include introducing a pop-up when users breach a certain excessive time limit on a network, raising awareness about digitally manipulated photos and teaching social media usage in school health classes. Survey respondents were especially supportive of the first two measures, with 71 percent and 68 percent agreeing, respectively.
Taking Responsibility
RSPH's comprehensive report recommends public health-centered action plans to reduce social media's harm while still maintaining its positive impact. But for a service ultimately meant to ensnare users in an almost addictive cycle, who should ultimately be responsible for user well-being?
Instagram apparently took its dismal #StatusofMind rating to heart. The social network, which has been owned by Facebook since 2012, created a "Well-being Team" to address the negativity on the site. In a job posting from this month, Instagram describes the thought behind the well-being program:
"Our goal is to foster the safest, kindest, and most supportive community[...]We are creating products, tools and programs that enable teens on our platform to have strong, positive contributions to their communities and support one another. In particular, the well-being program focuses on building trust with teens and the people who care about them and centers around programs, products, and campaigns that support teen mental health, promote diversity and inclusion, celebrate kindness and body positivity, and highlight communities of support on our platform."
Even if Instagram's new strategy is well-intentioned, it's difficult to imagine a site that thrives on flaunting one's appearance or euphoric experiences transforming into a wellspring of positivity in any length of time. But compared to Facebook's frequently repeated message of "you knew you were signing up for this" in response to ethically ambiguous data collection scandals, Instagram's effort is an improvement.
User responsibility comes into play as well, to Facebook's point. Users fed up with privacy or well-being issues can simply leave social media networks, but this can be a Herculean task, especially for a young person's developing brain and social needs. Science has consistently backed leaving social networks. An Australian study found that quitting Facebook for five days leads to a drop in the stress hormone cortisol. A 2015 study found that Facebook users with over 300 friends on the network had consistently higher levels of cortisol. And in line with the #StatusofMind report, countless studies have found links between excessive social media use and reports of unhappiness and decreased well-being.
Any technology has upsides and downsides — to paraphrase an old adage, it takes railroads to have derailments, and there would be no car crashes without automobiles. Questioning the use of any technology to avoid its pitfalls is necessary, however. Social media is especially unique because of its reliance on ad revenue: it thrives on keeping user eyes on its site, almost guaranteeing an addictive business model. While users report that FoMO drags down their mental health, playing on that fear is a boon for tech companies.
Earlier this month, in response to alarming reports that over 50 percent of young Britons experienced mental health issues, The Guardian called on young people to write in and explain why they are unhappy and stressed.
"Social media has poisoned young people," a 24-year-old U.K. resident explained in an April 9 follow-up. "The whole text generation has taken a lot of character out of young people's communication and left a lot of them strangers to themselves. The influence of social media has poisoned the generations that have only ever known that life too."
Perhaps the Big Tobacco metaphor works after all.