Tobacco is one of the leading causes of death in the world. According to Action on Smoking and Health (ASH), one person dies every six seconds from a tobacco related-disease, and 20 percent of all U.S. deaths are from tobacco. It's not just smokers who are affected, but ASH also says that more than 600,000 non-smokers die each year from second-hand smoke around the world. Clearly, tobacco is a threat to humanity. Researchers from Michigan Technological University are trying to change this by turning tobacco farms into solar power farms.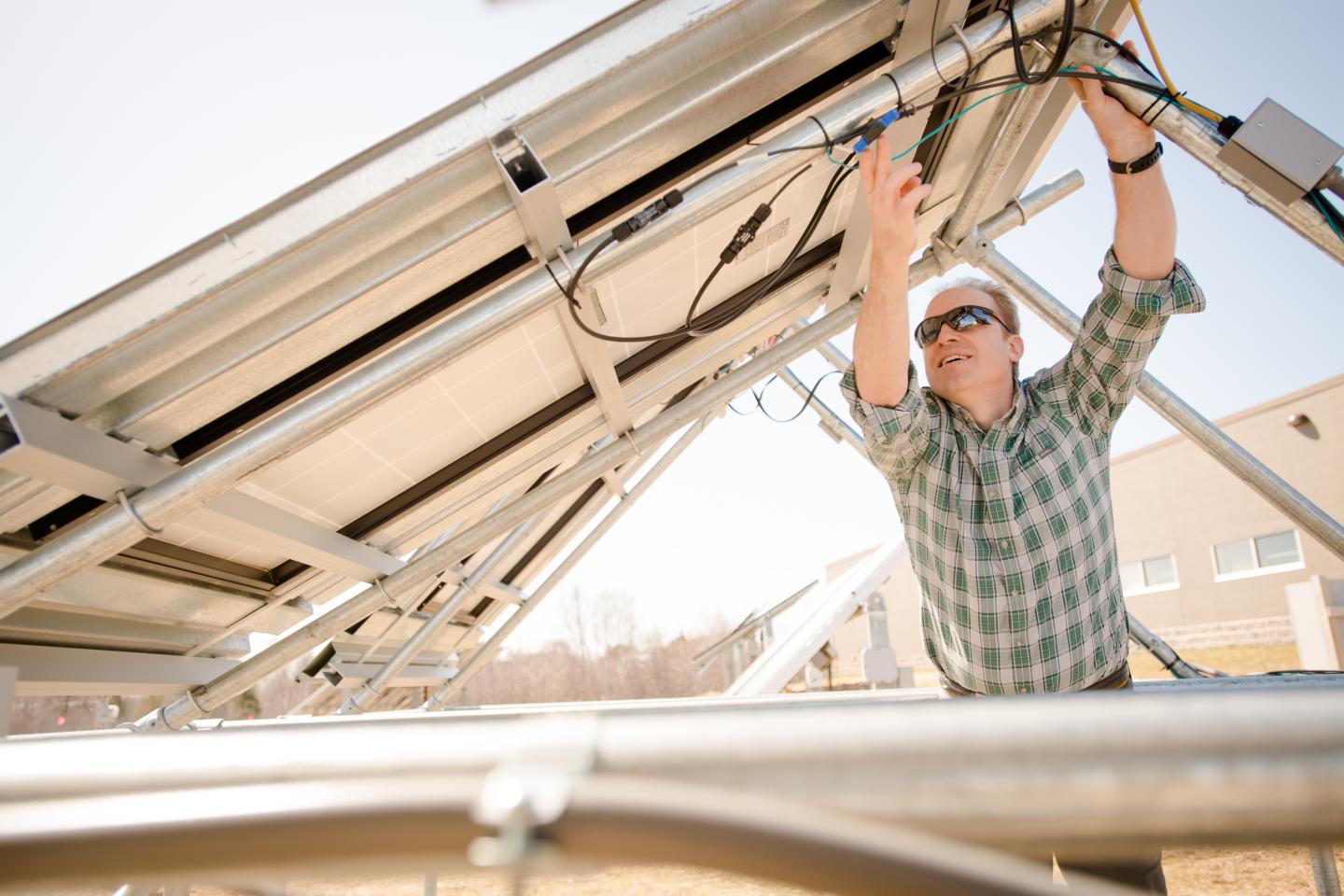 Joshua Pearce, professor of materials science and electrical engineering, has conducted several studies investigating the benefits of large-scale solar deployment replacing existing coal or nuclear power. Source: Joshua Pearce
In the past, farm and croplands have been turned into land used for ethanol production. This removes usable land for food production and, in turn, causes food shortages and a rise in food prices. The researchers wanted to avoid using cropland for solar farms. They believe that by changing tobacco farms into solar farms, they are avoiding affecting food production and removing a product that has health hazards. According to the researchers, encouraging tobacco farmers to use their land for solar energy harvesting instead of tobacco could increase this profits by thousands of dollars per year.
Tobacco use has been declining in the last few years. According to Centers for Disease Control and Prevention (CDC), it has declined from 42.4 percent of adults smoking in 1965 to 16.8 percent in 2014. With this decline in tobacco use, the tobacco farms are not needed as much. The reason that tobacco farms still exist is that it is still a way for farmers to make some money.
"We were interested in what conditions were needed to enable tobacco farmers to begin installing solar energy systems on the same land," says Ram Krishan, an engineer who designs solar systems and one of the researchers who worked on this study, "We looked at likely trends in all of the major economic factors, but were surprised to find that because the cost of solar has dropped so dramatically it is already economically advantageous for tobacco farmers to replace tobacco with solar in many situations."
Solar energy is a better crop for farmers to harvest because solar panels can withstand harsher conditions than plants. Solar panels can withstand heat, cold, ice, snow, hail, rain droughts, and winds of up to 150 miles per hour. This is the perfect crop for farmers to take advantage of.
The research team used North Carolina in a case study to test if converting tobacco farms to solar farms works. North Carolina is one of the top tobacco-producing states in the U.S. This land has a lot of potential for solar energy harvesting.
As part of the research, the team led a sensitivity analysis test on the economics of solar farms and how they would affect profit for the farmers. Their findings were then compared to what tobacco farmers make in a year. They found that electricity is a much more valuable commodity when compared to tobacco. Electricity is becoming more valuable every year, resulting in a need for renewable energy, like solar energy. Researchers found that solar energy provides thousands of dollars per acre of land per year for tobacco farmers if they switched to farming solar energy.
As part of the economic analysis, the researchers found a solar installation could cost from 88 cents to two dollars per watt to install. This discovery allows farmers to figure out how much it may cost them to switch from farming tobacco to farming solar energy.
When studying the solar energy farming potential of North Carolina, the researchers found that if all the North Carolina tobacco farms converted to solar energy, the entire state could have the potential to generate 30 gigawatts. This means that the tobacco farms alone could produce enough solar energy to power the entire state's summer electricity load. Switching to solar energy production would also save 2,000 lives through pollution reduction from coal-powered electricity.
Currently, tobacco farmers are hesitant to switch to solar energy production because of the cost. A 10-megawatt solar farm costs $1 per watt to install. The governments in tobacco states need to develop investors for solar energy so they can bring these costs down and encourage farmers to switch.
The paper on this research was published in Land Use Policy.