FLIR Systems, Inc. has announced the FLIR RSX-F intelligent sensor for advanced fire detection inside rail coaches. The FLIR RSX-F uses the company's Lepton-branded thermal sensor and high-definition visual imaging for fire and occupancy detection as well as closed-circuit television (CCTV) monitoring.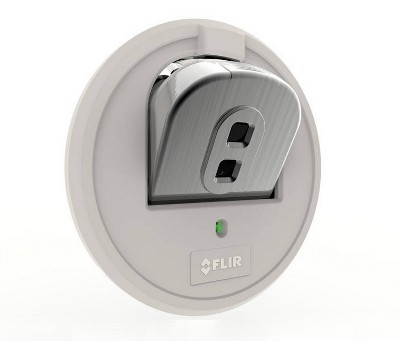 FLIR Systems' RSX-F thermal sensor is designed to detect fires in rail cars and improve rail passenger safety. Image source: FLIR Systems, Inc. FLIR says the RSX-F uses a thermal sensor with on-board fire detection algorithms to detect a fire faster and more accurately than conventional methods. The FLIR RSX-F detects thermal energy emitted from objects within its field of view and "sees" through smoke. The dynamic video detection algorithms also determine the size, rate of temperature increase, and movement of a hot spot. This approach minimizes false alarms by distinguishing between non-critical temperature events like the use of a cigarette or lighter and those that represent serious safety hazards.
The FLIR RSX-F also captures passengers' heat signatures to determine seat occupancy. This allows train operators to optimize passenger flow on platforms and to improve passenger comfort by adjusting the HVAC system appropriately.
The fire-detection sensor uses a 160 x 120 pixel focal-plane array uncooled microbolometer to cover the 8-14 µm long-wave infrared (LWIR) spectrum and a 1920 x 1080 pixel HD color CMOS sensor for the visible light range. Both sensors have a 95° horizontal field of view.
The sensor mounts easily to walls or ceilings and tilts up to 45 degrees to give it an optimal view of the coverage space. The FLIR RSX-F sensor is also fully compliant with the EN 50155 standard covering electronic equipment used in railway applications.
For more information, visit the FLIR RSX-F product page at www.flir.com.