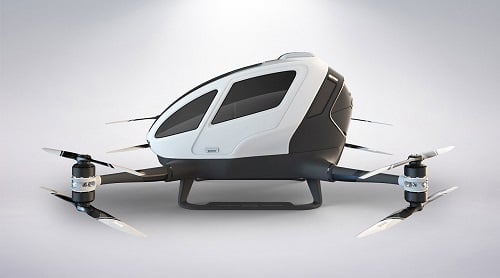 The EHANG 184 autonomous aerial vehicle. Source: EHANGThere has been a lot of coverage about the ongoing development of Flying Cars: from preorders being taken for future builds; to a manufactured flying car being showcased; to new DeLorean coming back but as a flying model; and even how to earn a degree in flying cars.
But we have yet to see them actually carry passengers. That's something that can't be said for passenger drones, which are cropping up to compete with flying cars. Autonomous drone taxis are becoming popular, with a plan to roll out a fleet of the vehicles in Dubai, where they tested it in an unmanned flight.
Now, a Chinese drone company has footage of its first voyage carrying passengers in an autonomous passenger drone. The company, EHANG, performed a series of manned flight tests carrying one and two passengers (including the EHANG CEO and all executives as well as government officials from Guanghou province) in its EHANG 184 autonomous aerial vehicle (AAV).
The flight site was in Lianyungang city, a prefecture-level city in Jiangsu province in China, and the travelers flew in a remote area of the city to over parts of the city and back again. The EHANG 184 has all the functions and controls that are similar to a helicopter but it also autonomous with no need for a background in flying to enjoy a ride.
During the video, we see the CEO take a flight along with other government and company officials who nervously board the small passenger drone. The drone itself looks like a super-sized version of a drone manufactured by DJI or other commercial drone vendor but big enough to carry up to two people.
The company says it has conducted thousands of flight tests on the passenger drone but this is the first time any video has been released to document the tests. There is no word as to when this will be available for purchase or for companies looking to get their own fleet of passenger drones up and running. The company says it will look to find partners and customers this year, so it is likely at some point EHANG will offer it up its autonomous passenger drone to companies in China and elsewhere as technology evolves, regulations are sorted out and consumer confidence rises to a level to ride in one.