About one year ago, AeroMobil made a splash offering the first glimpse of a new model of flying car that it was already taking pre-orders for $1.2 million. Since that time, a number of competitors in the flying car market have emerged including EHANG in China, a DeLorean to rival something from "Back to the Future" and the PAL-V Liberty that was recently shown off at the Geneva Motor Show.
AeroMobil is now introducing the next model in its planned fleet of flying cars with a new design that includes vertical take-off and landing (VTOL).
The AeroMobil 5.0 VTOL is a personal air transportation vehicle with two electrically driven rotors for safe take-off, with horizontal thrust being provided by an electric-powered, rear-mounted pusher propeller.
The flying car will seat four passengers with a similar experience to next-generation electric vehicles but with the added flight and drive data, advanced communications and media for occupants to stay connected while in the air or on the road.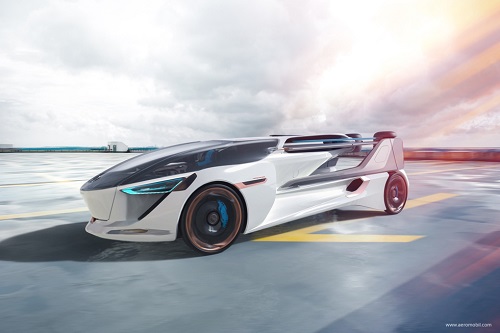 The concept flying car will be optimized for both urban skyways and streets. Source: AeroMobil"The multi-product strategy means we can provide urban travel with the AeroMobil 5.0 VTOL and intra-city travel with the AeroMobil 4.0 STOL," says Juraj Vaculik, co-founder and CEO of AeroMobil. "Our strategy solves the limitations of alternative VTOL concepts which are tied to dedicated landing pods rather than also using the existing road infrastructure."
In addition to private use of the flying cars, both the 4.0 STOL and the 5.0 VTOL will serve future flying taxi needs for urban and intra-urban journeys, allowing people to travel in any weather conditions, the company says.
Production of the AeroMobil 5.0 VTOL model will follow the production of the AeroMobil 4.0 STOL rollout, which is expected to be available in a limited series to private owners beginning in 2020. The 5.0 model is expected to be available in the next seven to 10 years, which the company says is in line with the reality of building and scaling the infrastructure and regulations to support flying cars.
Other features of the AeroMobil 5.0 VTOL flying car include adaptive wings for efficient flight, rear extension and control surface for enhanced flight control and in-flight comfort, adaptive suspension geometry for smooth landing and a battery package and drivetrain to maximize utilization in both urban and inter-urban use cases.