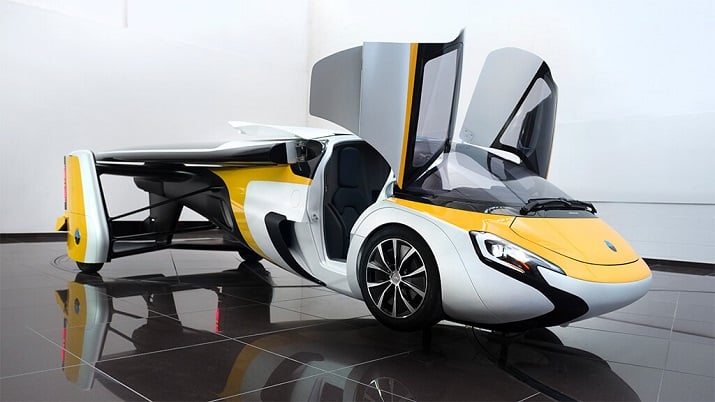 AeroMobil is accepting pre-orders for its new model of flying car with full production expected by 2020. Source: AeroMobilAeroMobil unveiled its new model of flying car at the Top Marques Monaco supercar show this week and is taking pre-orders for the first edition of the vehicle.
AeroMobil says the flying car can travel in almost any weather condition, in either car mode or airplane mode. The dual mode means it can cut travel times when compared to traditional short haul airline flights of up to 631 miles.
The flying car features an aerodynamic exterior made of carbon composite construction, found in most sports cars and performance aircraft, making the vehicle lighter and stronger. The wings are constructed using pre-preg composites for handling and high maneuverability, while its suspension adapts to varying road conditions.
AeroMobil says while airborne the flying car has been designed for stability and predictability similar to existing small aircrafts; the cockpit surrounds the pilot and co-pilot in a monocoque structure capable of absorbing and distributing crash and impact energy. The vehicle even includes a ballistic parachute to bring it back to the ground safely if deployed.
The flight control systems transform to automotive controls in less than three minutes, and are powered by a 2.0 turbo charged 4-cylinder boxer internal combustion engine with a fully autonomous digital electronic control (FADEC) digital control unit. While on the road, the flying car uses a dedicated electric front wheel drive system with electronic differential and an adaptive transmission.
AeroMobil is accepting pre-orders for the flying car and expects to go into full production in the upcoming years with first deliveries being made by 2020. The initial production run will be limited to a maximum of 500 units and will only cost you a cool $1.2 to $1.6 million.
"To significantly reduce the cost of flying cars in the long-term, we are bringing an automotive high-volume approach to a traditionally conservative low-volume aerospace industry, significantly cutting components costs via smart design, novel materials and production automation whilst fully conforming with civil aviation industry requirements" says Juraj Vaculik CEO of AeroMobil. "In the coming months we will be looking for additional investors who can contribute to our disruptive approach and further strengthen our position ... at the forefront of the evolving flying car industry."
The company plans to develop a series of models in different price categories to meet different, but identified, market opportunities — ranging from personal travel to mass market mobility-as-a-service.