If you've ever seen the Back To The Future films, then you are familiar with the DeLorean time machine that transported Doc Brown and Marty McFly to the October 21, 2015 in an attempt to stop his future son from going to jail.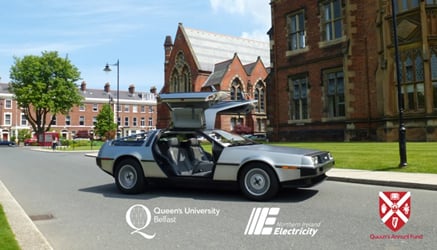 Queen's University Belfast in Ireland will be showing off its real-life Electric DeLorean vehicle on Wednesday, the same date that Marty McFly was transported to the future.
At that time, Queen's and NIE Networks will unveil the latest version of the famous car, which students and staff have modified into a hi-tech electrical vehicle—the first of its kind in the UK or Ireland.
The vehicle is considered to be the first DeLorean to be built in Northern Ireland since production came to a halt at DeLorean's Belfast factory in 1983.
Over the past 18 months, engineering students and faculty from Queen's School of Electronics, supported by NIE Networks, have restored and modified the DeLorean DMC-12.
"In the future, more and more of our energy will come from renewable electricity—whether to power appliances in the home or our means of travel. The electrification of transport is a major global challenge, so projects like the Queen's Electric DeLorean are crucial in equipping young engineers with the knowledge and expertise to build the electric vehicles of the future," says Dr David Laverty, project leader.
While the main goal of the project was to turn an ordinary car into an electric vehicle, Laverty emphasized that the team went this route in an attempt to do so "in-style."
"The DeLorean was in a poor state of repair when we took ownership in January 2014, and since then our students have worked with experts within Queen's Electrical Energy laboratory—one of the few university facilities in the UK dedicated to teaching and research of electrical generators and motors—to develop the car's hi-tech electric engine," he says.
The team used the original drivetrain from the DeLorean, including its Renault gearbox, which the students modified so that it is driven by a 270 horsepower electric motor, giving a top speed of 120 mile per hour.
When it is revealed this Wednesday at the Ulster Museum, school children will get a preview of the car on that morning and the opportunity to find out more about the Electrical Engineering courses on offer at Queen's.
Those interested in attending a public viewing later that night can register here.