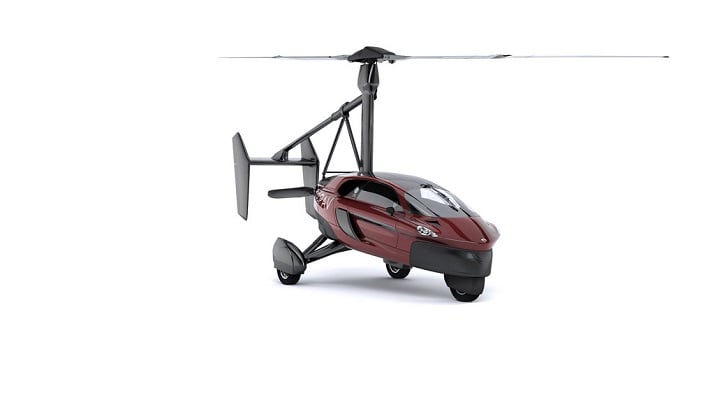 The PAL-V Liberty flying vehicle. (Courtesy PAL-V)PAL-V, which bills itself as "the creators of the world's first commercially feasible flying car," has opened the doors to a production facility in the Netherlands. The company says that production operations to fulfill early orders for its Liberty flying vehicle are imminent.
"Most parts are ordered for the first machines and the first are in house. We will commence construction with an eye on deliveries to our first global clients in 2018 into 2019," said CEO Robert Dingemanse.
The Liberty is a three-wheeled, two-seater gyroplane, relying on lift created by a wind-powered rotor. Here are some more specs:
Drive mode:
Max speed: 160 km/h (100 mph)
Top speed acceleration: <9 seconds for 0-100 km/h (0-62 mph)
Engine power: 100 hp
Fuel economy: 7.6 l/100 km (31 mpg)
Range: 1315 km (817 mi)
Flight mode:
Max speed: 180 km/h (112 mph)
Max operating altitude: 3500 m (11,480 ft.)
Engine power: 200 hp
Fuel economy: 6.9 gal/hr
Range: 400-500 km (248-310 mi)
The European Aviation Safety Agency (EASA) recently visited PAL-V headquarters to discuss progress of the project. EASA supervises the Liberty's airworthiness certification process as well as organizational certification for design and production. Alignment with FAA standards will also lead to certification in North America.
"Naturally we are very excited about this on our side of the Atlantic," said Mark Jennings-Bates, vice president for North American sales.
Can't say I blame them. Although the price for the initial models is going to be steep, signs point to this being just the beginning. Have a look at several other companies planning to get flying cars to market within the next decade or so.