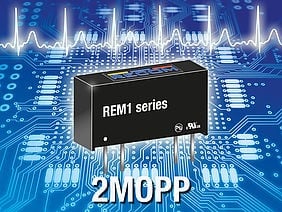 Image credit: RECOM
A new, fully medically-certified DC/DC converter developed by RECOM (Gmunden, Austria) is the first in its class to provide 2MOPP (Means of Patient Protection) with 250 VAC working voltage in a SIP7 package. This compact design offers engineers more freedom to develop their PCB layout, knowing that they will comply with the stringent regulations for medical certifications.
The use of pre-certified modules reduces the risk of electromagnetic compatibility (EMC)/safety certification failures and saves time for expensive re-designs. RECOM's new REM1 series complements the existing REM 3 W, 6 W and 10 W medical DC/DC converters by offering a 1 W solution in a compact SIP7 package.
This state-of-the-art converter features reinforced isolation of 5.2 kVDC/1 minute and is certified 2MOPP with 250 VAC working voltage. Available with 3.3, 5, 12, 15 or 24 V inputs and 3.3, 5 or 12 V outputs, the REM1 is a versatile solution with up to 85 percent efficiency and operates in an ambient temperature range from -40° C up to +90° C. This converter meets Class B EMC by using a simple external LC filter and is IEC60601-1-2 (4th Ed.) medically EMC certified. It is also fully certified to IEC/EN/ANSI/AAMI 60601, third edition safety standards, with CB report and comes with a five-year warranty.