The TDK-Lambda CUS200M series of medically and ITE-certified power supplies feature efficiency levels of up to 94%, thus reducing internal heating and extending electrolytic capacitor life. The CUS200M can deliver 200 W convection cooled and up to 250 W with 1.5 m/s airflow, and it is packaged in the industry 3 x 5 in. standard footprint. Applications include hospital, dental, broadcast, test and measurement equipment, particularly where audible fan noise is not desired.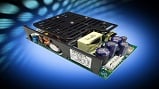 CUS200M power supplies. Source: TDK-Lambda
Operating from a universal input of 85–265 Vac, the CUS200M series is available with nominal outputs of 12, 18, 24 and 48 Vdc, which can be adjusted via a potentiometer. All the models can deliver full power with ambient temperatures of –20 to +50° C and 50% power at +70° C. An open collector DC good signal, remote on/off and a 5 V standby output (0.6 A convection, 1 A forced air) is included as standard on all models. Off-load power draw is less than 0.5 W when in standby mode.
The CUS200M series is safety-certified to ANSI/AAMI ES 60601-1, IEC/EN 60601-1 and IEC/UL/EN 60950-1, and carries the CE mark for the Low Voltage and RoHS2 Directives. With an input-to-output isolation of 4,000 Vac (2 x MOPPs), 2,000 Vac input to ground (1 x MOPP) and 1,500 Vac (1 x MOPP) output to ground, the series can be used in BF-rated medical equipment. The series is also compliant to EN 55011-B, EN 55022-B and FCC Class B for radiated and conducted emissions, and the IEC 61000-4 immunity and IEC 61000-3-2 harmonic current standards.