Sponsored content
Power supplies are used in almost all modern electronics because most run on low-voltage DC power while the power from the line is a higher-voltage AC. This situation requires an AC-to-DC converter.
Not all power supplies are the same, however, and older electronics use what are known as linear power supplies. Linear power supplies worked well but required a heavy, expensive transformer. Modern electronic devices use a switching power supply design, which is similar to a DC-to-DC converter in many ways. Switching power supplies provide high-quality DC power with higher efficiency, a smaller and lighter package as well as lower cost. This reduction in size and cost makes it ideal for power supplies to be embedded into devices.
RECOM entered the power supply and DC-DC converter business in 1988. The company offers the RAC01-G, RAC02-G, RAC03-G and RAC04-G AC-to-DC switching power supply modules, which supply one to four watts of power respectively, in class A or B filter options. Class B is designed to be used when the EMC requirements are more stringent, while the Class A version is additionally certified to the household standard when safety is of critical concern. Additional filtering of the Class A version is possible with minimal external components. They have short circuit-protected isolated outputs and they are all small, with the largest dimension being less than 1.5 inches.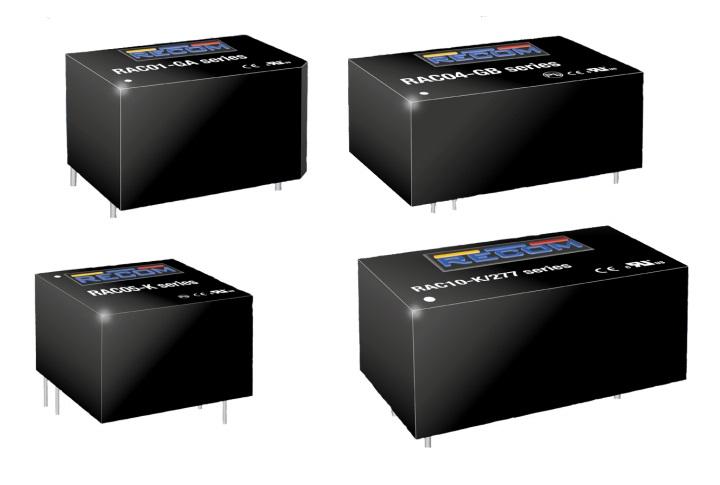 Figure 1. RAC05-K family of modular power supplies. Source: RECOMThe RAC05-K and RAC10-K offer five and 10 watts of power respectively and have filter options that include international electromagnetic compatibility (EMC) compliance and a Class B filter. EMC filters reduce the noise from the main line supplying power. The RAC05-K is small — the largest dimension is one inch — and has short circuit and overvoltage protection. The RAC10-K is still compact, with a two-inch maximum dimension, providing significant power in a small package.
The RAC modules are very efficient, with a flat curve down to virtually zero percent. This results in almost the same efficiency at full amperage load as compared with small loads. Designers can ideally use the larger-wattage RAC05 and RAC10 in designs with little drawback in efficiency. The efficiency curve makes picking a power supply simple. Choosing a higher wattage power supply will allow future design changes or firmware upgrades that draw more power than the original design, adding flexibility without sacrifice. The RAC modules also have wide-ranging inputs and accept between 85 to over 250 volts, as well as beyond 50 to 60 Hz, so no changes are required to make them work at home and abroad.
Meeting Standards
Standards for electronics are important, but can be a hassle to deal with when designing a circuit. A board-mount power supply that already meets certain standards can reduce that obligation and make circuit design easier and quicker.
One such standard is IEC 60335-1, relating to appliances designed for households or similar purposes. Compliant devices are required to have voltages less than 250 V for single phase or 480 V for other appliances.
Another standard, Class B emissions level, is set by the Federal Communications Commission (FCC) and relates to the amount of electromagnetic interference a device is allowed to produce by way of emissions. All electronic devices produce some level of electromagnetic noise, but Class B regulates that level of noise to a standard level and a frequency range that is acceptable.
IEC 60950-1 is a safety standard related to technology equipment such as computers. In the future, IEC 62368-1 will replace this as a hazard-based standard that covers both A/V equipment and computers, changing the evaluations that products must pass. This means that the power supply used for these devices will need to meet the new standard. The RAC05 and RAC10 power modules already meet these guidelines, making them an easy choice to future-proof new products.
Wireless and IoT
Wireless devices and the internet of things (IoT) are quickly becoming huge industries. Boston Consulting Group predicted that spending on the IoT will reach $267 billion by 2020 and virtually all new IoT devices will need a power supply.
Wireless and IoT devices have some unique power-use patterns. Typically, an IoT device will spend a good portion of its time in standby mode, consuming very little power. When the IoT device activates, it must communicate for a short duration and then go back to standby. Supplying power for these applications can be challenging: the power supply must effectively supply the wattage during activity but also be efficient during standby periods. Designing a power supply to meet this need can be challenging, but purchasing a module already designed with this use removes the difficulty.
RECOM Modules for All Uses
RECOM modules find uses in many applications. These include:
The power supply in a consumer wood pellet grill to run a temperature sensor as well as a fan to control the cooking surface temperature.
A plumbing fixture that uses a power supply to control a solenoid valve for the cold water supply from an AC power source.
A home automation wall controller that runs fans, HVAC lighting and many other devices, using a power supply as part of the fan control system to provide excitement voltage to the motor controller from the mains power.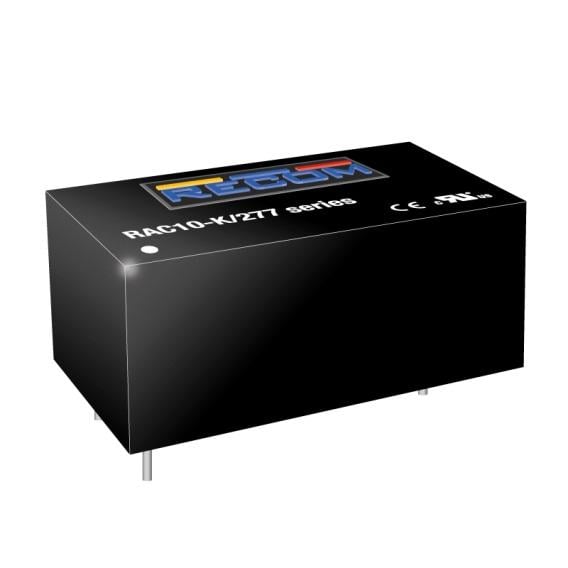 Figure 2. An RAC10-K/277 power supply. Source: RECOMDesign engineers could also build the power supply directly into the circuit design. This may be a designer's initial instinct to reduce cost and circuit size but in the end a power supply module is likely the better choice. Power supply modules are designed to be compact so that they won't take up much board space. Low-cost power supply modules from RECOM already meet the standards needed for today and tomorrow. When design time, certifications, size and parts costs are taken into account, it will become obvious that a power supply module is the way to go.
The 1-10W RAC power supply modules from RECOM offer the power and efficiency your design needs. The RAC05 and RAC10 offer the higher wattage needed without sacrificing efficiency while still meeting the necessary standards for any design, present and future. With all the advantages of using a modern well-designed power supply module, it is the obvious choice for any product.
About RECOM Power Inc.
RECOM Power was founded in 1974. The company focuses on customers' needs while re-investing to develop new products, also ensuring that existing products are high-quality and reliable.
RECOM started with DC-DC converters and sells AC-to-DC converters with outputs up to 480 watts. They also offer switching regulators and light emitting diode (LED) drivers. The power devices are often embedded into other products such as kitchen or HVAC equipment. These products are being used to hasten product development while keeping costs down and reliability up.