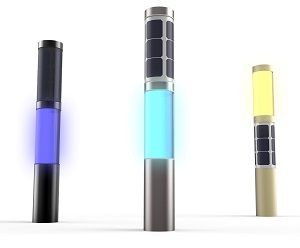 The NxT solar powered outdoor lamp. Image credit: FlexSol
The Z-Wave Alliance has announced its final winner of its Z-Wave Labs internet of things (IoT) startup competition — Dutch-based FlexSol.
FlexSol won for its NxT solar powered outdoor lamp and will receive membership to the Z-Wave Alliance as well as access to new development kits. NxT is an outdoor lighting device that powers itself with integrated cylindrical solar panels. It is powered by the sun and stores the energy in an integrated battery that then runs the RGBW light emitting diode (LED) lights.
The device doesn't require cords or cables and can be placed anywhere to provide lighting in any color of the rainbow. NxT is controlled through a smartphone app and can automatically adapt to sunrise and sunset as well as personalized to fit activity or mood or create custom scenes. FlexSol says it plans to integrate Z-Wave technology this year.
The Z-Wave Labs IoT competition was established in May of 2015 and Z-Wave expects to launch a new startup initiative later this year.