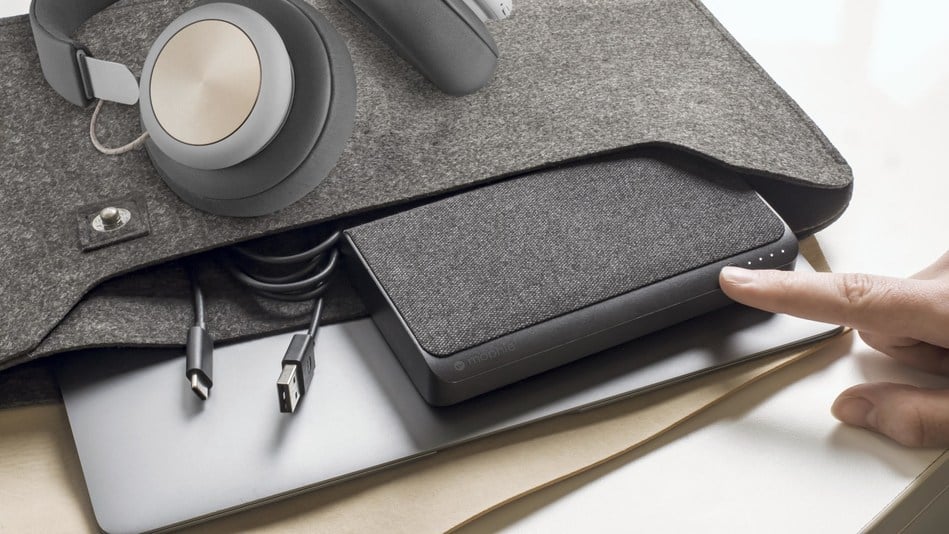 mophie powerstation USB-C XXL. Image credit: mophie
mophie has announced the availability of their powerstation USB-C XXL, a high-capacity universal battery designed to charge MacBook (2015), MacBook Pro (2016), iPad, iPhone and other devices.
This powerstation is equipped with one USB-C and one USB-A output charge port. It also has 19,500 mAh battery for more than one full charge for a MacBook. The powerstation is wrapped in a soft-touch fabric.
The USB-C port has USB-PD technology. This allows it to charge USB-C laptops rapidly, with charging rates up to 30 Watts. It also accepts high-speed charging input when connected to USB-PD chargers.
The powerstation USB-C XXL also has an additional USB-A output port 5 V/2.4 A. The role switch is controlled by a status button. The USB-C port's default function is to output charge. The LEDs show direction of charge in confirming switch position. It also has a Cypress CCG2 chipset. The pass-through charging is USB-C to USB-A.
The powerstation USB-C XXL is available in Apple stores and on mophie.com for $149.95.