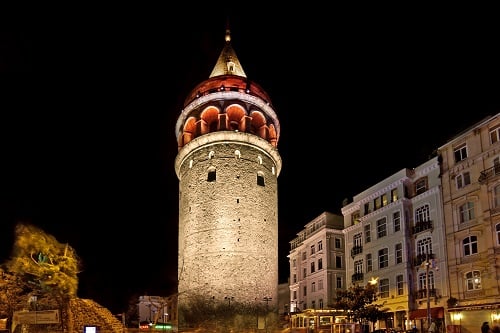 The Galata Tower in Istanbul, Turkey, with its architectural LED lighting. Image credit: Philips Lighting
The iconic Galata Tower in Istanbul, Turkey, has been updated with modern architectural light emitting diode (LED) lighting.
The tower is one of Istanbul's most well-known landmarks and is popular with tourists because of its commanding view over the city and its place in history. Philips Lighting updated the structure using its Color Kinetics lighting.
With help from lighting designers Nergiz Arifoglu Lightstyle, the goal was to provide colorful LED lighting that continues to project the structure as an icon in the heart of Istanbul's cultural and artistic Beyoglu district.
The Galata Tower is about 66.9 meters high and was originally built as a lighthouse in the fifth century. It was destroyed in 1204 but then later rebuilt in the 13th century and modified during the Ottoman Empire. The tower has stood for more than 15 centuries, with various renovations taking place over the years.
Philips says the lighting design supports the urban environment without altering or damaging the tower. The upper section and spire were equipped with Philips Color Kinetics PowerCore fixtures that offer the ability to apply millions of colors and light effects.