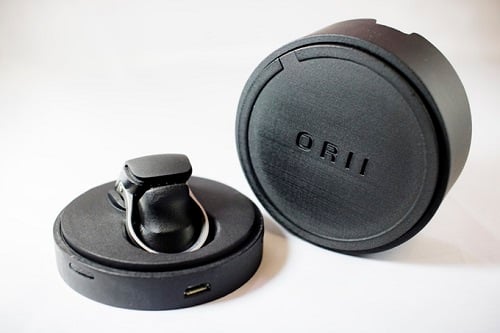 The Orii smart ring that allows users to make makes, send messages and set reminders. Source: Origami LabsGadgets are getting smaller with every iteration. Smartphones led to the proliferation of smartwatches that allow for text message and email notification as well as fitness tracking, heart rate monitoring and more.
Now, Origami Labs is looking to bring voice communication down even smaller with Orii, a smart ring that enables you to make and receive calls or send messages using your voice and finger.
Origami Labs claims this is the first voice-powered smart ring that allows users to make calls, send messages, set reminders or anything else that Siri or Google Assistant can do using bone conduction to send sound along a finger and into the ear. Bone conduction technology has been frequently used in applications for healthcare such as hearing aids. A touch to the ear sends clear audio sound with privacy along the finger for calls.
Orii works with Siri or Google Assistant. The user long-presses the CapSense button to wake up the artificial intelligence and then uses the dual noise-cancelling microphones to tell the voice assistant how to help a user.
Origami labs says Orii is lightweight and durable so that it can be worn comfortably on the hand all day. It is also splash-proof and scratch-resistant, made from anodized aluminum.
Currently, Orii is on Kickstarter to raise funds for distribution and generate word of mouth for the gadget. While it has already met its goals, you can learn more about the campaign by visiting https://www.kickstarter.com/projects/187732114/orii-your-voice-powered-smart-ring/description