A wearable computing ring developed at the Georgia Institute of Technology can be used to interact with smart devices by thumb movement.
The Fingersound device incorporates a tiny contact microphone and a gyroscope sensor. By strumming a thumb across one's fingers, a user can trace letters and numbers that are detected by the device and displayed on a nearby screen. Unlike other gesture-based systems which require movements in the air, Fingersound uses the fingers as a canvas – providing tactile feedback as gestures are performed.
"Our system uses sound and movement to identify intended gestures, which improves the accuracy, compared to a system just looking for movements," said Cheng Zhang, a Georgia Tech grad student and creator of the technology.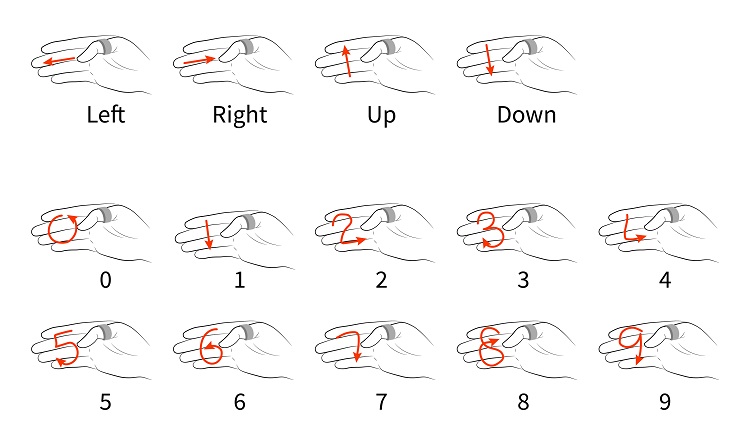 FingerSound is a new wearable ring technology that can detect numbers and letters drawn on one's fingers. Image credit: Georgia Institute of Technology.The sound captured by the device is sent through multiple filtering mechanisms. The system then analyzes and determines whether a gesture was performed -- or whether it was simply noise from other finger-related activity.
The Georgia Tech researchers say that the technology could eventually be used to send phone calls to voicemail or answer text messages, without needing to touch or even look at one's phone.
That means less distraction when, say, a user's phone rings during a meeting.
Beyond that, the technology could also be used in VR – replacing the need to take off a head-mounted device in order to input commands.
"A ring augments the fingers in a way that is fairly non-obstructive during daily activities. A ring is also socially acceptable, unlike other wearable input devices," Zhang adds.
The research was presented earlier this year at Ubicomp, the Association for Computing Machinery's International Joint Conference on Wearable and Ubiquitous Computing. Two other papers featuring ring-based technology, FingOrbits and SoundTrak, were also presented. All were developed by the same team that previously created an interactive technology for controlling smartwatches.