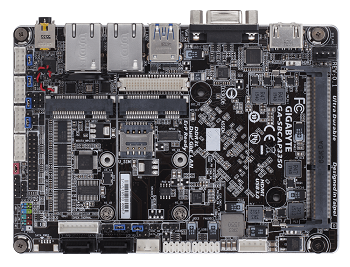 The GA-SBCAP3350 developer board. Image credit: GigabyteThe venerable Raspberry Pi is a super popular developer board for the DIY community, but because of its popularity, there are bound to be those wanting a piece of the pie.
In July, that competition has been ramped up considerably. First there was the NanoPi Neo Plus 2 that promises a greater performance with Gigabit Ethernet options at $10 less in price. Then the Rock64 developer board was released with a more powerful processor and support for 4K resolution as well as a lower price.
Now, Gigabyte is set to roll out its own Raspberry Pi killer in the coming weeks: the GA-SBCAP3350 developer board featuring an Intel Celeron N3350 dual-core processor, single channel DDR3L SO-DIMM slot support, mini-PCI slot for Wi-Fi, Mini-PCIe dual purpose slot for mSATA SSD support and a 2x copper PCB design.
Other features include two USB 3.0 ports, four more USB 2.0 connections, dual gigabit Ethernet ports and both VGA and HDMI for 4K resolution.