Newark, a division of Avnet, has introduced a new Raspberry Pi 400 desktop computer that can be purchased on its own for use in industrial and commercial applications including point-of-sale terminals and thin clients.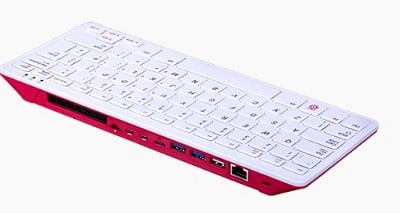 The Raspberry Pi 400 kit comes with a keyboard and electronic components in a compact unit. Source: NewarkThe Raspberry Pi 400 kit integrates the keyboard and electronic components into an enclosed compact unit and offers a clock speed of 1.8 GHz, 20% higher than Raspberry Pi. The kitted variants comprise a Raspberry Pi 400, pre-programmed SD card, power supply, mouse, beginner's guide and micro HDMI cable. These allow the Raspberry Pi 400 to be used on a television monitor.
The Raspberry Pi computer includes a 28 nm Broadcom BCM2711 quad-core ARM Cortex-A72 64 bit processor clocked at 1.8 GHz; 4 GB of LPDDR4-3200 RAM, a micro SD card slot for operating system, application and data storage; dual-band 802.11ac wireless networking delivering real-world data rates of more than 100 Mbps, Gigabit Ethernet and Bluetooth 5.1; two micro-HDMI ports; and two SuperSpeed USB 3.0 ports that can be used to connect a wide range of peripherals.
The Raspberry Pi 400, priced at $100, is available in six keyboard languages for the U.K., Germany, France, Italy, Spain and North America.