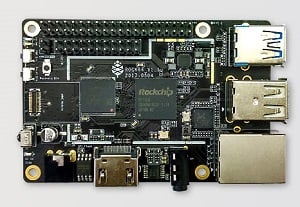 The Rock64 developer board. (Source: Pine64)
Just a few days after a potential Raspberry Pi 3 competitor was launched, yet another has been made available to challenge the venerable maker board — the Rock64 media board computer.
Rock64 is a credit card size developer board powered by Rockchip RK3328 quad-core ARM Cortex A53 64-bit processor and supports up to 4-gigabyte, 1600-megahertz LPDDR memory. The big difference here is that it also supports 4K resolution for high dynamic range playback.
Other features include an embedded multi-media controller (eMMC) module socket, MicroSD card slot, Pi-2 bus, Pi-P5+ Bus, USB 3.0 and other peripheral interfaces for makers to integrate with sensors and other devices. It also has a starting price of about $25, making it cheaper than Raspberry Pi.
Rock64 is available for pre-order right now with shipments expected to begin at the end of July.