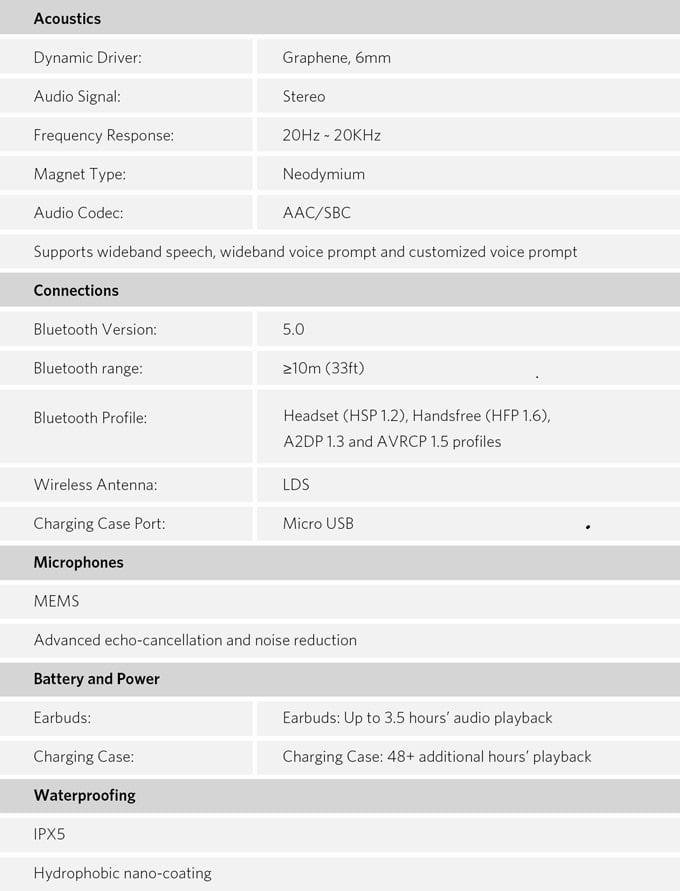 Specs on the Liberty+. Image credit: Zolo.A new set of wireless earphones designed to address problems that have plagued the technology since its introduction – poor sound quality, unreliable connectivity, short battery life and so on -- is set to get Kickstarter funding, having exceeded its $50,000 goal by 4000%. At last count, the project had raised nearly $2.5 million.
Called the Liberty+, the new device is built with graphene – a nanosheet with 100 times the hardness of steel at a fraction of the weight. According to product manufacturer Zolo, a graphene coating on the dynamic driver ensures precision oscillation, providing superior sound across the frequency spectrum as well as dramatic enhancements to treble and overall clarity.
Shenzhen, China-based Zolo, which is making its marketplace debut with the Liberty+, has also integrated a laser direct structuring (LDS) antenna — the same technology used in satellites and drones – directly into the body of the earphone. The company states that this will offer virtually unbreakable connectivity within a 10-meter range.
Also built into the new device is advanced battery technology from mobile-power device maker Anker. The earphones boast up to 3.5 hours of playtime, and more than 48 hours of extra battery life is available from the included charging case.
Other features of note include a waterproof, liquid-silicone casing for maximizing comfort and fit, voice-control integration with AI assistants such as Alexa and Siri, accessible by double-tapping on the earphones and the ability to let in exterior sounds at the touch of a button.
Trial productions are set to take place in August and September 2017, with mass production and shipping of the finished product in October. The earphones will be available in black or white; MSRP is $149.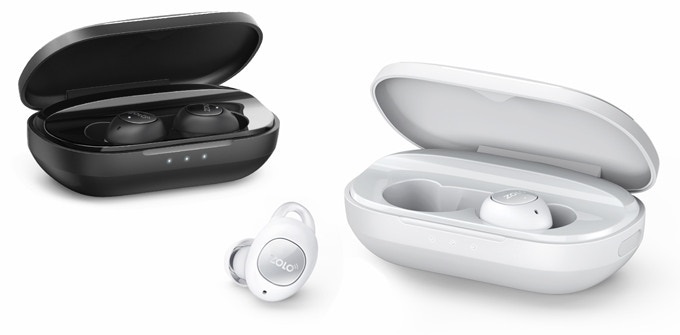 The Liberty+ earphones, funded by Kickstarter and set to being shipping in October 2017. Image credit: Zolo.