The Jabra Elite 65t wireless in-ear earbuds offer a number of features, including Apple and Android compatibility and an acoustical open-chamber design for wind noise reduction. Additional features include:
Four-microphone technology, creating beam-forming directional field for clear phone conversations
Passive noise cancellation and "hearthrough" ability to block or allow external ambient sound
Lightweight design (right earbud, 6.5 g; left earbud, 5.8 g)
Coin cell lithium-ion battery producing 85 to 90 mAh, offering up to 5 hours battery on single charge and up to 15 hours use with pocket-size charging case (included)
Operating range up to 10 m (33 ft)
Connectivity to Amazon Alexa, Siri and Google Assistant
Bluetooth 5.0; pairing up to 2 devices simultaneously, 8 devices total
Microphone frequency range 100 Hz to 10 kHz; speaker frequency range 20 Hz to 20 kHz
Microphone sensitivity -38 dBV/Pa; speaker sensitivity 103 dBSPL at 1 kHz/1 mW
IP55 rating for dust and water protection
The device's Near Field Magnetic Induction (NFMI) chip, which runs a 10.5 Mhz connection between the two earbuds, is linked to the Bluetooth chip through the main PCB. Materials used in the device include PC/ABS plastic, silicone rubber, PMMA paint and gold-plated metal.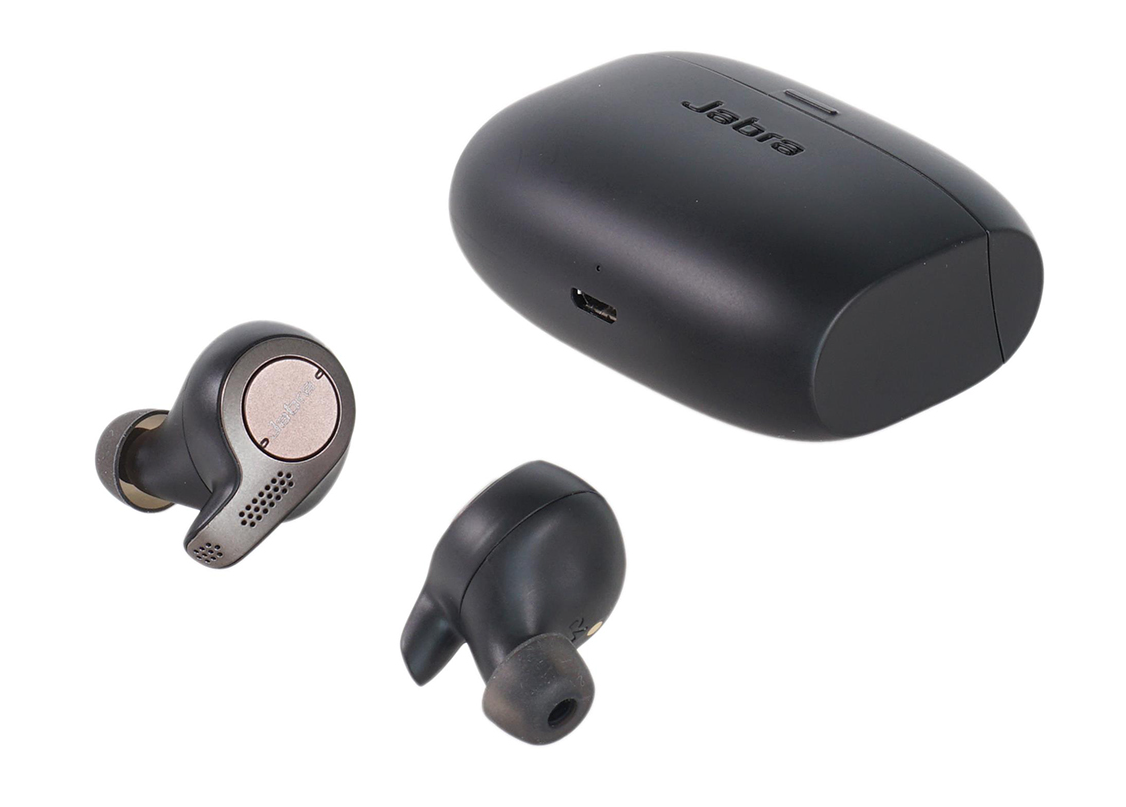 Jabra Elite 65t. Source: IHS Markit
The following is an overview of a teardown analysis conducted by IHS Technology Teardown Services.
Summary points:
Wireless earphones
Utilizes NXP NFMI for Ear-to-Ear Transmission
Bluetooth v5.0
Android & iOS Compatible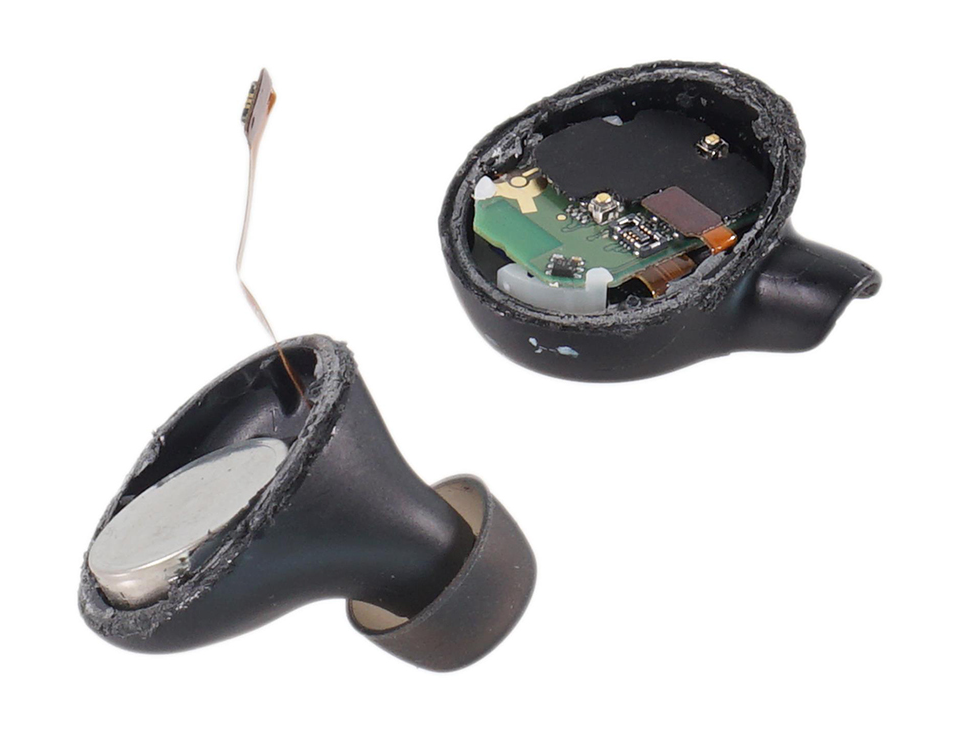 Jabra Elite 65t: left ear enclosure. Source: IHS Markit
Target market: High-end consumer
Released: April 2018
Availability: Online, big-box resellers
Pricing: MSRP 169.99 USD
Total manufacturing cost: $36.03 (including direct materials and manufacturing)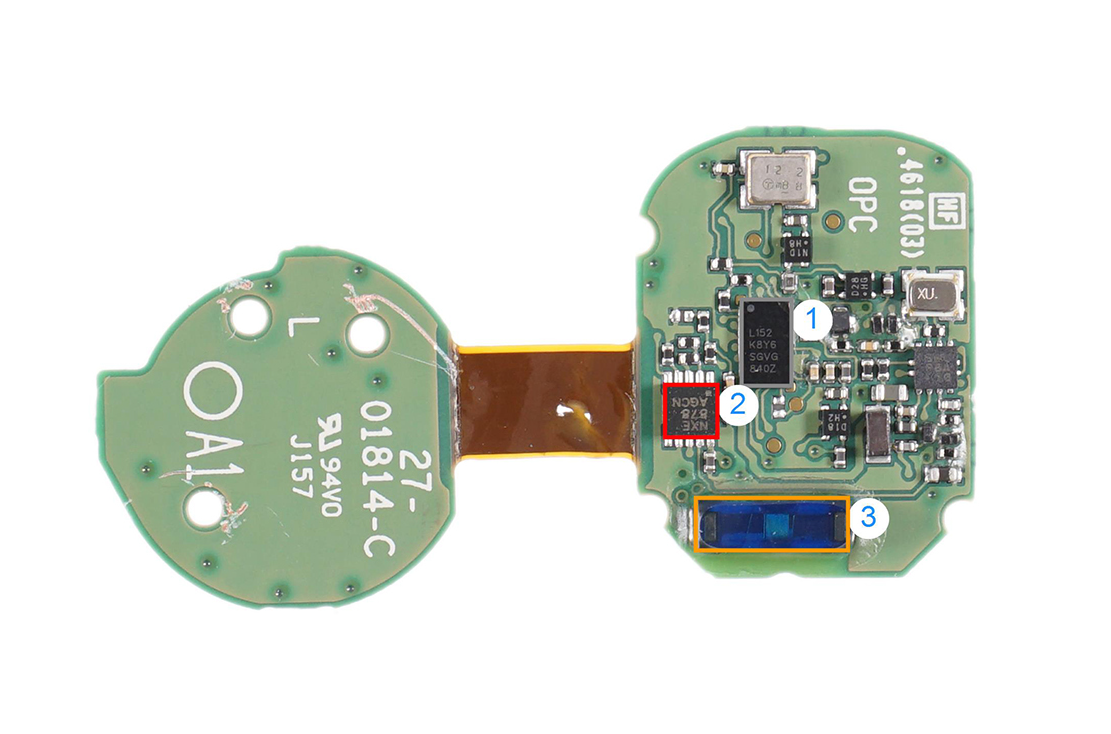 Jabra Elite 65t: left ear PCB. Source: IHS Markit
Shown above:
1. ST MICROELECTRONICS, STM8L152K8Y6, MCU, 8-Bit STM8 Core, 16MHz, 64KB Flash, 4KB RAM, 2KB EEPROM, (1) 18-Channel 12-Bit ADC, (1) 1-Channel 12-Bit DAC, (28) GPIOs
2. TEXAS INSTRUMENTS INC, BQ24040DSQ, Battery Charger, Single-Cell Li-lon/Li-Polymer, 4.2V, 1A, 1%, with Auto Start
3. NFMI Antenna,Wound Ferrite Core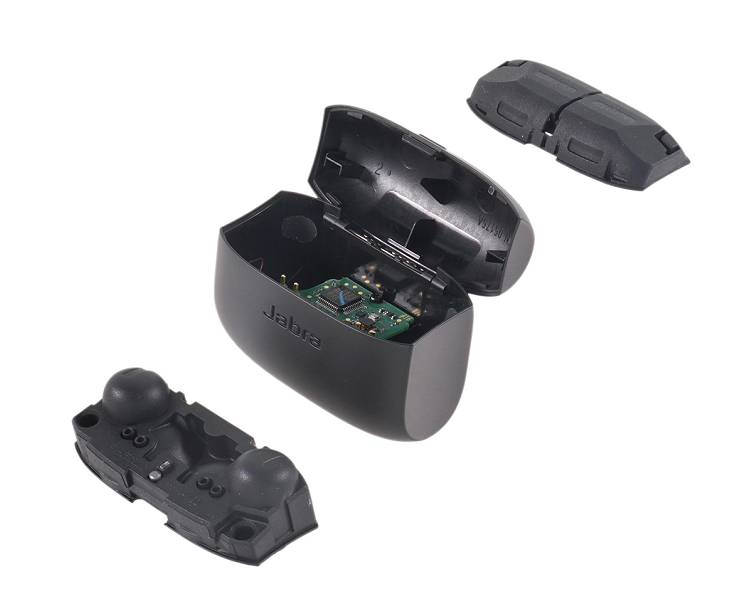 Jabra Elite 65t: charging case. Source: IHS Markit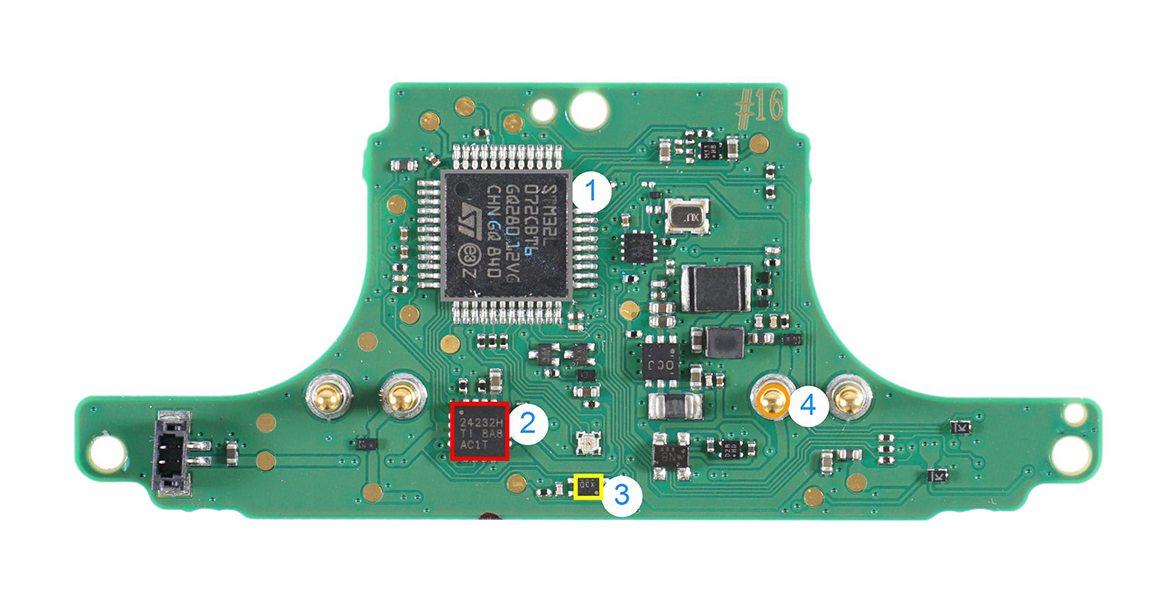 Jabra Elite 65t: charging case PCB. Source: IHS Markit
Shown above:
1. ST MICROELECTRONICS, ST32L072CBT6, MCU, 32-Bit ARM Cortex M0+, 32MHz, 128KB Flash, 20KB RAM, 6KB EEPROM, 13-Channel 12-Bit ADC, 2 2-Channel 12-Bit DAC, 40 GPIOs
2. TEXAS INSTRUMENTS INC, BQ24232HRGT, Battery Charger, Single-Cell, 500mA, with Power Path Management
3. ABLIC INC, S-5716ACDL2-I4T1U, Hall Effect Sensor, Dual Pole Detection, CMOS Output
4. Charging Contact, Pogo Type, Gold Plated, Vertical
Major components:
NFMI Radio IC, Single Chip, Integrated ARM Cortex-M0 processor, Up to 2 Audio Tx, 2 Audio Rx and Multiple Data, w/ Supports Both G.722 and SBC Audio Codec - MFR: NXP SEMICONDUCTORS - MPN: NxH2281A1
Bluetooth, SoC, Bluetooth V4.2, Integrated 80MHz RISC MCU & Kalimba DSP, 16Mb Flash Memory, 14 GPIOs - MFR: QUALCOMM - MPN: CSR8670C-ICXT-R
6-Layer, Rigid/Flex Hybrid, FR4/Kapton, 2+2+2, Lead-Free
Enclosure, Charging Case, Inner, Injection Molded TPE
MCU, 32-Bit ARM Cortex M0+, 32MHz, 128KB Flash, 20KB RAM, 6KB EEPROM, 13-Channel 12-Bit ADC, 2 2-Channel 12-Bit DAC, 40 GPIOs - MFR: ST MICROELECTRONICS - MPN: ST32L072CBT6
Battery Pack, Li-Polymer, 1-Cell, 3.8V, 450mAh, 1.8Wh, w/ 2 Discrete Insulated Wires & 2-Position Pin Socket Connector - MFR: SYNERGY SCIENTECH CORP
Battery Charger, Single-Cell, 500mA, w/ Power Path Management - MFR: TEXAS INSTRUMENTS INC - MPN: BQ24232HRGT
Loudspeaker, 6mm Diameter, w/ 2 Discrete Insulated Wires & 1 2-Position Pin Socket Connector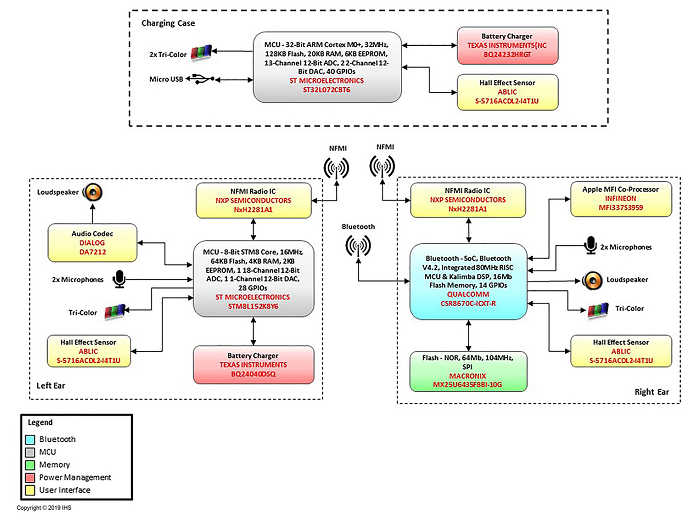 Jabra 65t Elite: device overview. Source: IHS Markit