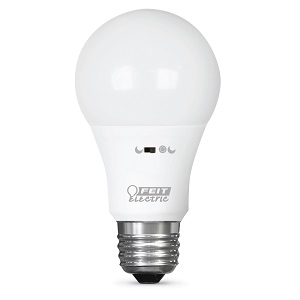 Motion activated LED bulb. Source: Feit Electric Feit Electric has introduced five new bulbs in its IntelliBulb light emitting diode (LED) series that not only saves energy, but also has problem-solving capabilities.
The bulb is built so there is no need for special smart home hardware, mobile apps or dimmers. The different bulbs include one: A motion activated bulb from 19 feet away; one that has dusk to dawn capabilities that automatically turns the bulb on at night and off during the day; one that switches to dim either 100%, 60% and 10%; one that has color choices either warm white, cool white or daylight; and one that features a battery backup so if the power goes out, the bulb will stay lit for up to three hours.
The LED bulbs offer up to 15,000 hours or 13.7 years of light at three hours per day.
Pricing for the LED bulbs begins at $9.99 with the battery backup priced at $19.99.