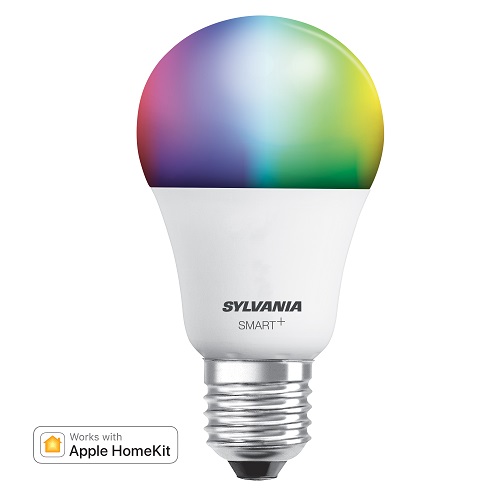 The Sylvania Smart+ A19 full-color LED bulb. Image credit: Ledvance
Ledvance's Sylvania Smart+ A19 full-color light emitting diode (LED) bulb has been ported to Apple's HomeKit in what the company claims is the first bulb that can be controlled via Siri and the Apple Home app without requiring a separate hub or smart socket.
In addition, Ledvance plans to add its Sylvania Smart+ A19 soft white LED bulb, indoor full-color flex strip and plug to the portfolio for Apple HomeKit in the near future.
The bulb can be screwed into any existing socket in a home, apartment or other indoor area and then synced to the Home app on an Apple device. The HomeKit can control all accessories, including lights, temperature, locks, garage doors, scenes and more.
The LED bulb features on/off switching, dimming, cool white light or warm relaxing light and it can change to one of millions of colors. The Sylvania Smart+ A19 full-color bulb is available for preorder priced at $44.99 with delivery expected in September.