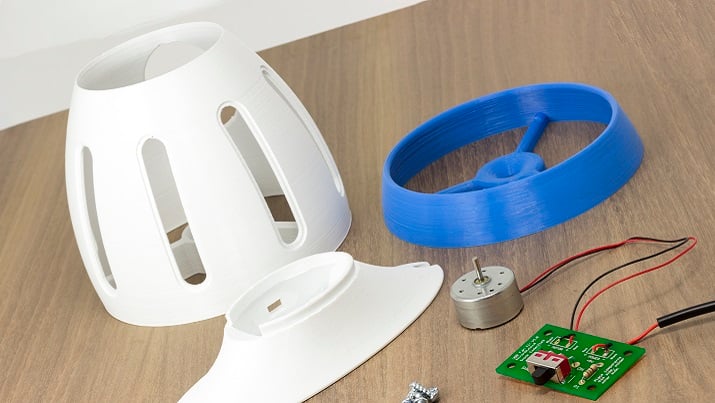 Image credit: Kitronik Ltd.Kitronik calls it a "cool summer project," and they mean that literally. The new 3D Printed Desktop Fan Resource is designed for building a custom fan enclosure that complements their USB Fan Kit.
The resources included give a walk-through of the process, from initial concept to finished product, leaving room for students' inspiration to guide the design. To allow for greater airflow through the fan body, Kitronik borrowed the design of a jet engine for its own prototype.
"This is an area in which students may wish to engage in further research, experimenting with other shapes and designs to see if air flow results can improve still further," said company co-founder Kevin Spurr.
The Kitronik prototype was printed on a Robox 3D printer using White ColorFab nGen 3D printer filament and Blue PLA. The fan was designed and modeled using Fusion 360, then exported to STL 3D for printing. The design did not require support material, but went straight from printer to assembly. Printing the three parts that make up the fan took a total of 16 hours.