A Palo Alto, California-based start-up has launched a new cloud platform the company calls the "first Drone API as a Service" offering. The program developed by FlytBase Inc. helps connect unmanned aircraft with cloud-based apps and offers access to real-time drone control, telemetry and payload data over 4G/LTE.
The FlytBase Cloud makes use of a custom-developed protocol to connect drones to cloud-based business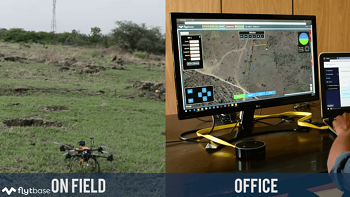 Image credit: FlytBase Inc.applications in real time via a secure link. Other types of drone-based applications require data to be downloaded manually after the flight and then uploaded to cloud servers for post-processing, but such applications can now be completely automated.
FlytBase has partnered with Built.io to provide integration with hundreds of business apps, such as Salesforce, Box, Slack, Twilio, Cisco Spark, Zendesk, Dropbox, Nest and YouTube.
The platform consists of FlytOS, an Android-like operating system designed for commercial drones. Developers can exploit APIs for navigation, payload-management, swarms, computer-vision, system-configuration or collision-avoidance to build custom applications for any drone use-case, such as surveys, agriculture and delivery.