At this week's AUVSI Xponential event in Denver, Colorado, Intel Corp. disclosed details about its Intel Insight Platform, a digital asset management system that enables effective aerial data management and analyses. The company also demonstrated its next-generation flight planning software called Intel Mission Control.
The Insight Platform is a cloud-based digital asset management system that enables users to store, share and manage data from commercial drone systems. The software can generate 2D and 3D models, take measurements and run data analytics. Meanwhile, Mission Control is used for flight planning, project management and data handling for Intel's Falcon 8+ drones. It increases the automation of drone flights for commercial missions using advanced preset mapping modes and support for flight safety and compliance. The software helps pre-flight safety and system checks to validate the flight plan before the mission is executed.
Intel has also announced three new payloads designed for inspection, surveying and mapping applications using the Falcon 8+ drone. The High Resolution Imaging Payload captures 42 megapixel images using a full-frame Sony RX1R II camera and supports RTK through future software upgrades. The Imaging Payload and Dual Imaging Payload each support obstacle-avoidance capabilities to help enable safer missions and feature the 20 megapixel Sony UMC-R10C camera. The Imaging Payload delivers real color, time-stamped and geo-referenced images for mapping, surveying and inspection. The Dual Imaging Payload has two cameras mounted on one gimbal for simultaneous RGB image capture and thermal imaging. Intel says this will be available in the third quarter. The High Resolution Imaging Payload and Imaging Payload will be available this quarter.
Anil Nanduri, vice president and general manager of Intel's drone team, talked with Electronics360 regarding the next steps in its commercial markets strategy for its Falcon 8+ drones.
1) Is Intel seeing a large uptick in the number of use cases for drones in the industrial market?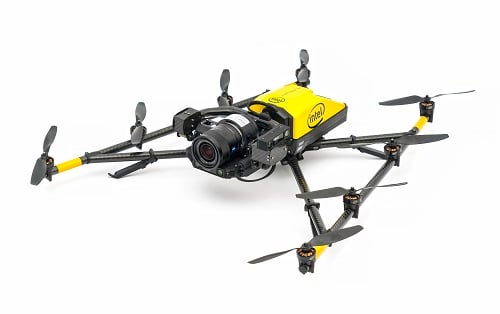 The Intel Falcon 8+ drone has been updated to support industrial mapping, inspection and surveying. Source: IntelIf you look at drone technology, it is getting more and more advanced. What was once just a flight system before is now an intelligent machine. More capabilities are coming to the drone platform in order to make missions for the industrial market simpler. So yes, we are seeing an increase, and the return on investment for drones is at a point where doing inspection or surveying faster and safer is worth the return, particularly when having to inspect hard to reach spaces that are dangerous.
2) How has Intel drone technology changed to help industrial markets?
It really has gone from a manually centric workload to a much more automated process. Before you had to be a very highly skilled pilot because drones required it. Now, flight operators can focus more on the mission at hand rather than just piloting alone with Intel's Mission Control software. There are different cases cropping up all the time where the technology is becoming useful such as infrastructure inspection on bridges, dams, utilities, solar panels and cell towers. These are long inspections and sometimes very complex or hard to reach. Drones have become a good tool not just because they can reach these areas safer but because with high-resolution cameras they can capture more than the human eye can see while being faster as well.
3) What do you see as the next big things coming to Intel drone technology?
With drones becoming highly automated, the next step is to automate the capture of data. Each drone can generate up to 50 GB of data but with some surveying or inspections generating 8 TB of data a day, this means a lot of data is needed for analysis. We will see automation of this analysis through software such as the Intel Insight Platform. Software will also help with defect detection and other problems that the human eye won't be able to pick up on. The ability to fly longer on missions will be coming as well. Instead of doing 10 flights and having to pause to recharge the drone or download the data, in the future, users will be doing 10 flights one after the other.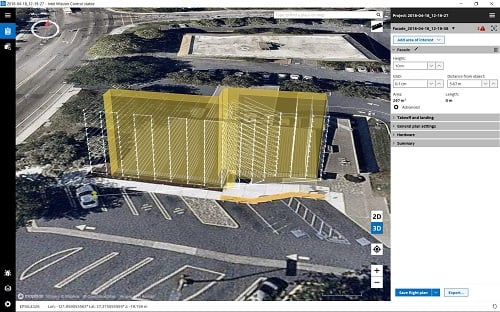 The Mission Control software uses advanced preset mapping modes and support for flight safety and compliance. Source: Intel4) Drones are emerging as a potential solution for warehouse and inventory management. Where do you see Intel drones playing a role?
This is an interesting development where RFID and other technology is coming to play a role in a job that generally takes a long time to accomplish. In this market, the payload will change but the flight will be the same. In warehouses, the question is how to manage the inventory and deliveries where a warehouse has hundreds of square feet of property with packages scattered on different levels. Inside a warehouse, if a drone can do the inventory management, it is a great value proposition as it will accelerate the process of inventory counting, freeing employees to do other meaningful tasks. The next step is advancing the technology to get local mapping to work inside a big building and that is something that will be coming to commercialization in the near future.
5) There have been a lot of announcements and pilot projects lately in the realm of drones for delivery. Is Intel going to get into the market for this?
This isn't really an area we see playing in as we see the drone more as a tool to deliver large amounts of data and that's mostly in inspections and surveying in the industrial markets. If you think of logistics, it is a last mile problem and figuring out how to reduce the costs of delivery as well as make it faster. If drones can deliver packages faster, there is value there and that is why some of these companies are heavily investing. To do that in an urban environment, safety has to be the No. 1 factor. But as far as we are concerned, we are looking more to industrial markets where data is most important.