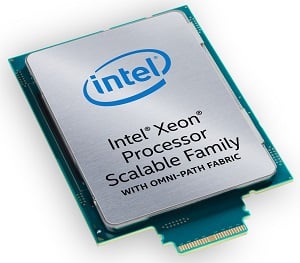 The new Xeon Scalable processor. Source: IntelIntel Corp. has launched its latest Xeon Scalable processors, designed to handle tasks such as real-time analytics, virtualized infrastructure and high-performance computing.
Intel says it has already shipped out more than 500,000 Xeon Scalable processors through its early ship program to enterprise, computing, cloud and communication service providers. The new processors increase performance about 1.65 times on average over previous generations' technology. In deep learning training the processor increases performance by 2.2 times compared to Intel's previous products.
In networking, it delivers up to 2.5 times increased IPSec forward rate for key networking applications. In virtualization, it is estimated to perform 4.2 times better than previous generations. In high performance computing it provides up to 2 times FLOPs/clock improvement with Intel's AVX-512 as well as integrated Intel Omni-Path architecture ports.
The Intel XEON scalable processors feature a new core microarchitecture, new on-die interconnects and memory controllers. This results in better reliability, security and manageability necessary for data centers and networking infrastructure, Intel says.