Processor IP licensor Imagination Technologies Group plc (Kings Langley, England) has released a MIPS development board aimed at university students, developers and hobbyists who want to create Android and Linux applications on a compact computer board.
The MIPS Creator C120 board supports Linux Debian 7 operating system and Android 4.4 KitKat is coming soon, Imagination said.
The board is clearly intended as a competitor to the ARM-based Raspberry Pi and BeagleBone Black boards and Imagination has produced a comparison chart to show-off its specifications. At 90.2mm by 95.3mm the board is nearly twice the size of the Raspberry Pi and the BeagleBone Black but it also offers higher performance, according to Imagination.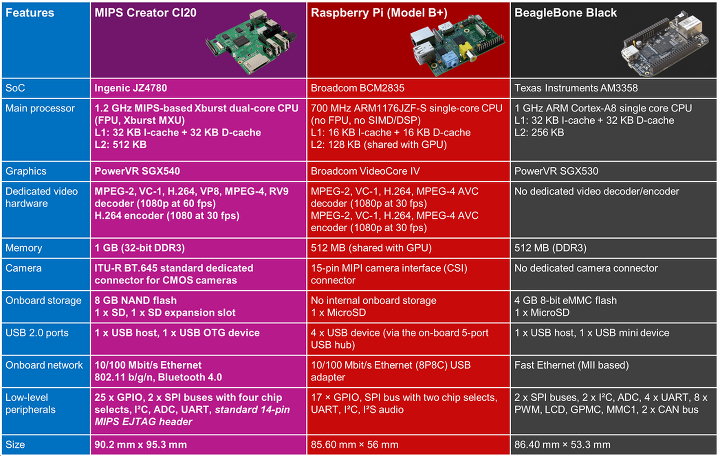 Board processor, multimedia and connectivity options compared. Source: Imagination.
The Creator C120 is based on an X-burst dual-core MIPS processor from Ingenic, the JZ4780, which is clocked at 1.2-GHz. This compares with a single-core ARM1176 clocked at 700MHz on the Raspberry Pi and a 1GHz single-core Cortex-A8 on the BeagleBone Black. The JZ4780 also includes floating-point maths and SIMD (single instruction, multiple data) operations and the PowerVR 540SGX graphics processing unit.
Imagination did not reveal a price for the Creator C120 – the Raspberry Pi is priced at $25 or $35 depending on the model while the BeagleBone Black is $45. However, the first batch of Creator C120 boards is being offered for free. Application developers will need to register at the Imagination store, https://www.imgtec.com/
"We haven't settled on a price yet – or whether we will be selling these boards at all. Our priority right now is selecting the most interesting projects and getting the boards in the hands of as many developers as we can," a spokesperson for Imagination told Electronics 360. Imagination has several universities lined up to receive a few hundreds of these boards, he said.
The first batch of free boards numbers 1,000 and has been manufactured in China. "We are looking at building more as demand has been extremely high," the spokesperson said.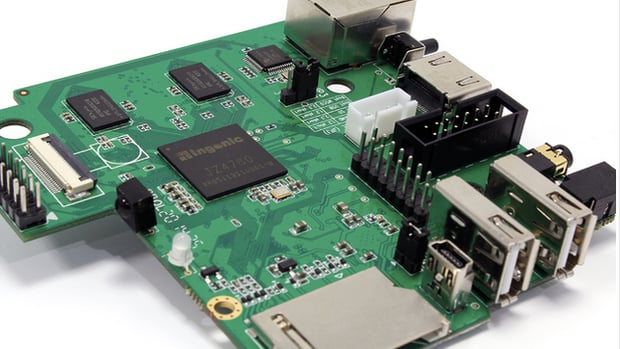 MIPS Creator C120 development board. Source: Imagination.
The platform comes with an external 5V power supply and an HDMI cable to connect to a screen. Being Android-capable it can be used to run a wealth of material that already exists using dedicated video processors that support 1080p at 60 fps, and low power playback for multiple video formats: H.264, VP8, MPEG-4, MPEG-2. Connectivity includes Ethernet and Wi-Fi 802.11b/g/n and Bluetooth 4.0. There are two USB ports and a numerous peripheral I/O ports.
The MIPS Creator C120 is supported by the recently-launched Prpl Foundation, an open-source, non-profit foundation that encourages collaboration among the Linux community.
Related links and articles:
IHS Information Technology services
News articles:
Imagination's Prpl Plays Linaro Catch-Up