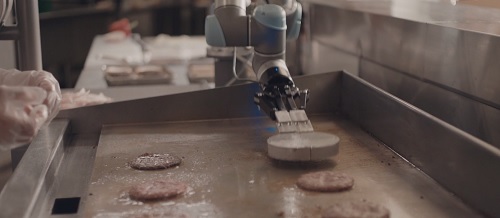 Flippy the restaurant robot in action. Source: Miso RoboticsMiso Robotics has closed a $3.1 million round of financing, led by Acacia Research, to expand and deliver its adaptable artificial intelligence robotic kitchen assistant.
Known as Flippy, the robot works alongside kitchen staff to improve efficiency in a restaurant including an arm that can lift and flip burgers.
Miso says it will use the capital to grow its robotics team and AI engineers to improve Flippy for restaurants. Miso plans to roll out the robotic kitchen assistant early in 2018 to CaliBurgers, a franchise with restaurants in the U.S., Canada, Mexico and 10 other regions.
"While the biggest companies in the world are focused on using computer vision and artificial intelligence to drive cars and manage the home, Cali group will facilitate and lead the adoption of these emerging technologies in the restaurant and retail industries," said John Miller, chairman and CEO of Cali Group, the parent company to both Miso Robotics and CaliBurgers.