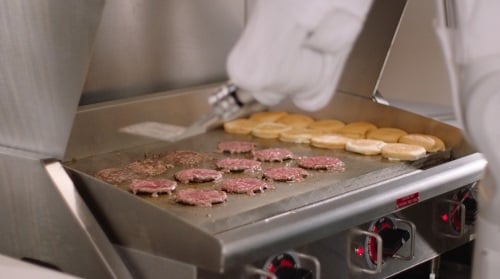 Flippy the autonomous restaurant assist robot will be ported to sports and entertainment venues. Source: Miso Robotics Miso Robotics, the maker of the burger flipping robot Flippy, is partnering with Levy, a sports and entertainment hospitality provider, to bring its robotic kitchen assistants to multiple venues.
Levy, who was a partner in Miso Robotic's $10 million Series B funding, will launch the first autonomous robotic kitchen assistant in a Levy-operated venue later this year. The partnership will later expand the use of the robotic assistants to additional sports and entertainment venues where they will help kitchen staff to provide food options on the go for sports and concert goers.
"We understand that our guests desire exceptional experiences and we're committed to making sure each one we serve has the most memorable and frictionless dining experiences possible," says Andy Lansing, president and CEO of Levy. "What appealed to us most in partnering with Miso Robotics is our shared vision in changing the way food is prepared through advanced technology. Their platform will enable us to operate more efficiently, control waste, decrease wait times, enhance consistency and, most importantly, meet guests' needs."
As part of the roll out of the robotic assistants, Miso Robotics is debuting its first assistant, Flippy, in CaliBurger's Pasadena, California, location. Miso says it plans to expand the capabilities of the artificial intelligence platform for restaurants and food preparation businesses.