Maybe it was COVID-19 — leaving us fearful of consuming anything handled by human hands — or perhaps it is entirely the novelty of it, but the majority of Americans, according to a recent survey, are now amenable to eating food prepared by robots.
This is good news for the hard-hit restaurant industry struggling with worldwide labor shortages. But beyond filling gaps in labor, robots working in the kitchen reportedly improve food quality and safety, increase restaurant productivity and lower restaurant operation costs. Likewise, by reducing the number of human hands in the kitchen, food consistency is reportedly increased, while the risk of cross-contamination is decreased.
Join Electronics360 as it looks at some of the robots taking on tasks in kitchens around the world in this two-part article.
Military cook
Military bases throughout the U.S. will soon employ robot chefs for food preparation tasks.
The autonomous sous chef, dubbed Alfred, was developed by Boston, Massachusetts, company Dexai Robotics.
According to the U.S. Department of Defense, Alfred is expected to help reduce food waste, improve overall sanitation and fill staff shortages at specific military bases across the country.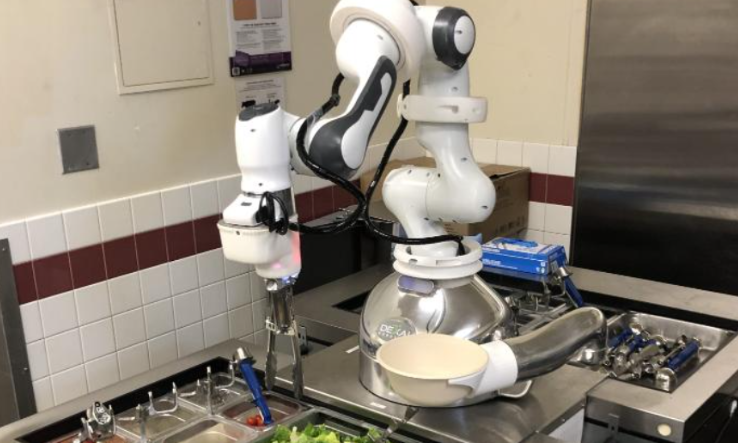 Source: Dexai Robotics
Powered by artificial intelligence (AI) and computer vision, the robotic arm can reportedly use standard kitchen utensils and is capable of preparing a variety of meals autonomously.
Flippy the flipping robot
Startup Miso Robotics has developed a robot that will automate chicken wing frying tasks in high-volume restaurants.
The Flippy Wings robot, from the makers of Flippy the burger-flipping robot, is an autonomous robot designed to fry chicken wings in restaurants, thereby freeing up staff to take on higher value, customer-facing tasks.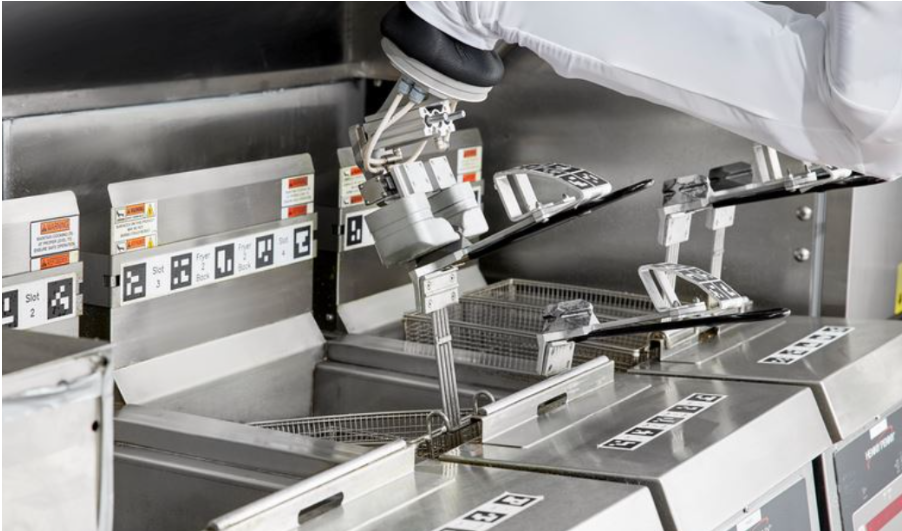 Source: Miso Robotics
The robot features an AutoBin system that includes food safe bins where restaurant staff can drop food to be cooked. Onboard AI vision identifies the food and the robot picks it up, cooks it, then places it in a hot holding area.
According to its developers, the Flippy Wings robot reduces food waste, avoids cross-contamination, decreases oil spillage and reduces the number of hot touchpoints. Likewise, the technology reportedly increases food production speeds by roughly 10% to 20%.
Pizzaiola the pizza-making chef
A robot capable of preparing pizzeria-style fare — pizza, salads, burgers, pasta and wings — has been developed by robot manufacturer Nala Robotics.
Pizzaiola is a fully autonomous, seven-axis robotic chef that uses AI and machine learning to prepare up to 50 pizzas an hour, using 35 different toppings and cheeses, five different types of dough and four different types of sauce. Likewise, the robot is capable of making an assortment of pizza types, ranging from Neapolitan to Chicago-style.
Outfitted with natural language processing features, Pizzaiola can also respond to voice menu orders. Once an order is communicated to the robot chef, Pizzaiola's robotic arms select and press the dough; add sauce, cheese and toppings; and then cook, slice and box the final product.
The makers of Pizzaiola suggest that the robotic chef could be as productive as two full-time employees amid a global labor shortage, working 24 hours a day, seven days a week, 365 days a year.
For more information on Pizzaiola, watch the accompanying video that appears courtesy of Nala Robotics.
Chippy
Remember Flippy, the burger- and wing-flipping, robot from Miso Robotics? Well, it's now time to meet its chip-making counterpart, aptly called "Chippy."
A modified version of Flippy, Chippy is currently being tested at a Chipotle R&D facility to determine if the robot could potentially be rolled out to the fast food chain's restaurants. There, Chippy would take over the task of tortilla chip making, according to Miso Robotics.
In Chipotle's R&D facility located in Irvine, California, Chippy cuts tortilla chips into triangles, fries them for 50 seconds in hot oil, places them in a bowl and sprays them with lime.
Like its burger- and wing-flipping counterpart Flippy, Chippy is able to accomplish such tasks thanks to onboard cameras, motors, sensors and computer vision algorithms.
Watch Chippy in action in the accompanying video that appears courtesy of Miso Robotics.
Check back with Electronics360 for Part 2 of robots in the kitchen.